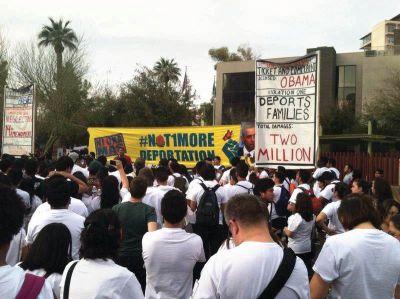 Rishi Singh, who recently joined a protest meeting against anti-immigrant laws in Arizona and demanded legislation to help the children of the undocumented, has known for over 17 years what it means to be an illegal young man in the United States.
Singh, who received his citizenship recently through the Deferred Action for Childhood Arrivals program, is a youth leader of the New York-based organisation Desis Rising Up and Moving.
Singh and a handful of members of his organization joined more than 500 immigrant youth leaders and families at the protest organized by United We Dream, the country's largest immigrant youth-led network. The march through Phoenix ended at the Immigration and Customs Enforcement detention center.
Singh has spoken about the uncertain lives his parents led after they came from Trinidad, and how he could no go to a college of his choice despite his good school record, or get financial aid because he was undocumented.
United We Dream wants speedy legislation that will help not only millions of undocumented in America but also their children.
"DACA, passed through an executive order of President Obama, was a good first step to give some relief to certain undocumented youth, it is not enough," Singh said. "Our parents, many of our siblings, many other undocumented youth, family and community members will never qualify for DACA, but they need immediate relief and an end to detentions and deportations now. We need to pressure President Obama to use his executive powers to give us that."
It was important for DRUM members to be in Phoenix, said Ruksana Mun, a DRUM youth leader, because 'some of the most anti-immigrant state laws have passed, such as SB 1070, which allows the use of racial profiling of all immigrants.'
United We Dream and DRUM leaders, including immigrant youth leaders and family members who've faced deportation or been separated from their families by deportation, demanded Obama halts deportations as the immigration reform legislative progress is deadlocked in the House of Representatives.
Almost 2 million immigrants have been deported in the last six years, the highest number in the history of immigration and of any Presidency, per civil liberties and pro-immigration groups.
Saneela, 19, youth leader of DRUM who preferred using her first name only, said she was deported from Canada into the US in 2007.
'Coming from a family that was facing deportation, I know the pain and struggle that many of these families in Arizona and across the country are dealing with,' she said in a statement.
The marchers were accompanied by an 11-car caravan representing the 1,100 people deported on Obama's watch every day.
The drivers were DACA recipients with driver's licenses, challenging Arizona Governor Jan Brewer's 'anti-immigrant crusade to block DACA recipients from applying for driver's licenses in Arizona,' the organizers of the protest said.
"My dad passed away three years ago, and I help support my family," Singh, 28, said. "I now have a great job as the New York City outreach coordinator for People's Global Action on Migration, Development and Human Rights, a UN civil society conference."
Image: Desis Rising Up and Moving members joined 500 protesters in Phoenix