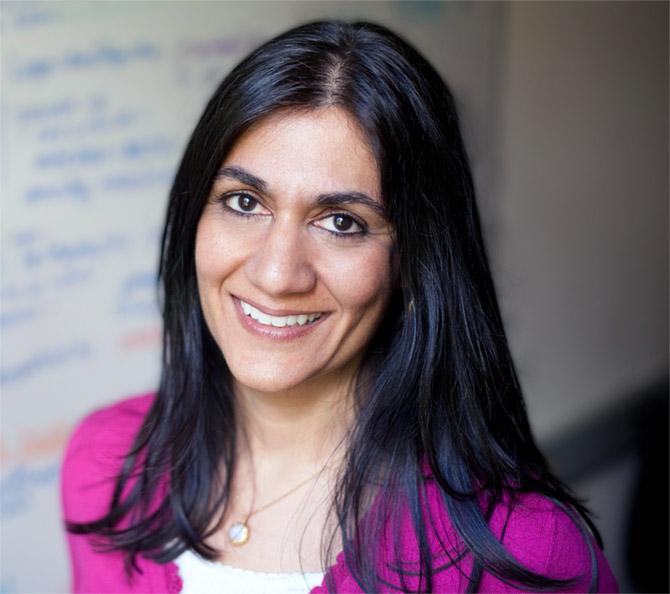 Physicist Kanwal Singh appointed dean of Sarah lawrence College, the first Indian American to head a leading liberal arts college in the US. Aziz Haniffa/Rediff.com reports from Washington, DC.
Dr Kanwal Singh has been appointed Dean of the Sarah Lawrence College in Bronxville, New York, effective August 1, 2015, becoming the first Indian American to head up a leading liberal arts college in the country, which counts among its faculty Vijay Seshadri, the Pulitzer Prize-winning poet.
'I am delighted to announce the appointment of Dr Singh,' said Karen R Lawrence, president of the prestigious, coeducational liberal arts school founded in 1926. 'She is a respected scholar and teacher, a much valued colleague, and an accomplished administrator.'
Dr Singh will succeed Dean Jerrilynn D Dodds.
Dodds, who will remain on the faculty of Sarah Lawrence after six years as dean, said, 'Kanwal Singh is a gifted administrator who can balance a deep understanding of our distinguished faculty with a keen mastery of the administrative demands of the position of dean of the college. We are so fortunate she will take the helm.'
In an interview with Rediff.com, Dr Singh said, "I am so very excited to be named the next Dean of Sarah Lawrence," and noted, "I have been a member of the physics faculty here since 2003 and it is an incredibly special place that creates intellectual and creative opportunities for students that can't be matched elsewhere."
"At the heart of our pedagogy is unparalleled one-on-one collaboration between faculty and student that really allows the intellectually curious student to soar," she added.
Dr Singh earned her MA and PhD in theoretical physics at the University of California at Berkeley and her BS in physics with departmental honors, summa cum laude, at the University of Maryland at College Park.
She held a National Defence Science and Engineering Doctoral Fellowship and a post-doctoral fellowship from the American-Scandinavian Foundation Her research focused on constructing models in order to understand low-temperature, low-dimensional systems, such as thin films of superfluids or superconducting material.
She also received a competitive fellowship from the American Association for the Advancement of Science for scientists interested in policy at the national level, working at the National Science Foundation's Directorate of Education and Human Resources.
Her work at the foundation focused on large-scale, multi-year efforts of local school districts in partnership with institutions of higher education to improve science and mathematics teaching.
It was this experience that expanded and strengthened her interests in science education.
Although all of her training has been in physics and she is one of the country's leading theoretical physicists, Dr Singh said, "I have always been a passionate believer in the power of a liberal education."
"Many South Asian students," she acknowledged, "follow a STEM (science, technology, engineering, mathematics) track, often at the urging of their parents. I was also strongly encouraged to do so -- my father really wanted me to become an engineer."
"Many of us," Dr Singh said, "have families who come from a place where a technical education was the most secure path to a stable and financially viable career, and it is hard to break away from that mindset."
But she argued, "A liberal education is one that is founded on critical analysis, the strength of evidence-based argument, and that insists on both breadth and depth in one's knowledge of the world. These values lead to abilities that one can carry into just about any pursuit."