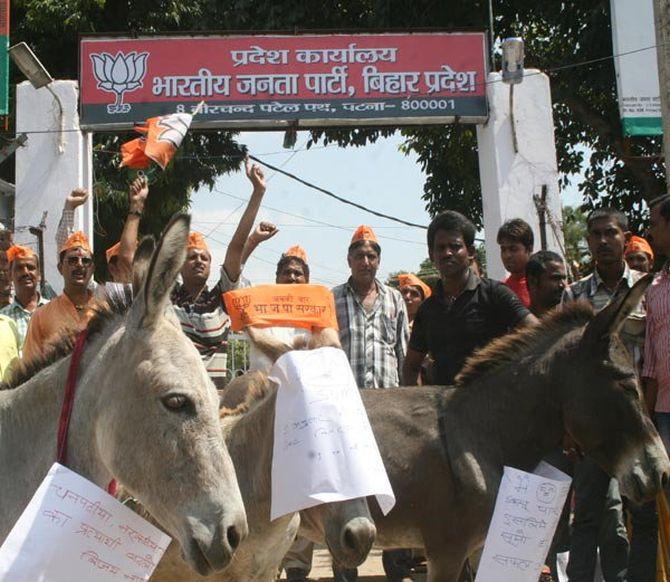 Vijay Nath Tiwari, an aspirant for the Chanpati assembly seat, said he was shocked that he was denied the ticket
In a rare protest, an angry Bharatiya Janata Party leader used donkeys to register his protest after being denied a ticket for the upcoming Bihar assembly elections.
Vijay Nath Tiwari, a BJP leader, staged a protest outside the BJP office with eight asses to express his anger over the denial of ticket to him.
Tiwari, a keen aspirant, to contest the polls from the Chanpatia assembly seat was denied the ticket by the party. "It shocked me when the party high command gave the ticket to another person instead of me," he said.
When asked why he used donkeys to register his protest, Tiwari said, "It appears to me that a group of asses have been running the show and have decided to issue the tickets. It was a symbolic protest."
And it wasn't just Tiwari who protested. Other angry BJP leaders from Raghopur, Karakat, Bakhtiyarpur and Bhagalpur protested on Thursday in front of the party office after their leaders were denied tickets to contest polls.
The BJP has so far declared candidates in 153 of the 160 assembly seats it will contest in the state.

The party is facing a rebellion after it denied ticket to over half a dozen outgoing legislators including former ministers Chandra Mohan Rai and Shukhda Pandey.