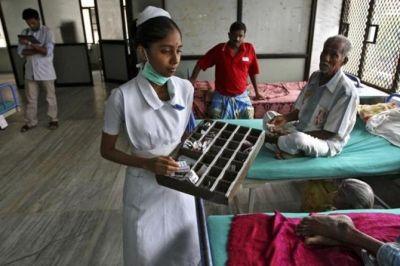 All Delhi government-run hospitals have been told to open 'Fever Clinics' to treat dengue patients.
Dengue scare has gripped the capital with two more patients dying of it and 613 fresh cases reported over the last one week, forcing the Delhi government to cancel leave of doctors, open 'Fever Clinics' to treat those hit, and launch a 24X7 helpline to deal with the situation.
Union Health Minister J P Nadda reviewed the situation and directed the Delhi government to increase bed strength in its hospitals and check overcharging of patients by private hospitals. He said the number of beds in central government run hospitals in Delhi is being increased.
According to the Municipal Corporation of Delhi, five patients have so far succumbed to complications arising from the vector-borne disease.
As concerns mounted over rising dengue cases, the municipal corporation came out with fresh data saying 1,041 people tested positive for the disease between September 1 and 12, including 613 cases in the last one week.
The total number of cases between January 1 and September 12 now stands at 1,872, which is highest for the period in the last five years. Though MCD said five people have died of dengue this year, the figures given by various hospitals put the toll at nine.
Chief Minister Arvind Kejriwal, held a meeting with top officials of Health Department and Rogi Kalyan Samitis which look after work of Delhi Government-run hospitals and issued direction to "do everything possible" to control the situation.
The Delhi government has launched a round-the clock helpline-- 011-23307145-- to help dengue patients. Kejriwal said this helpline will provide all relevant information relating to treatment of dengue.
Officials said the government has directed its hospitals to cancel leave of all doctors, nurses and para-medics in view of the situation.
The chief minister also asked the MLAs to visit the hospitals in their constituencies twice every day and ensure that proper treatment is offered to the patients.
After a meeting with chief district medical officers, regional health directors and top officials of his department, Delhi Health Minister Satyendar Jain appealed to people not to panic and said government has made adequate arrangements to tackle the situation.
He said all Delhi government-run hospitals have been told to open 'Fever Clinics' to treat dengue patients.
Jain said suspected dengue patients should get themselves tested only in government hospitals as far as possible because it is free of cost and reports come within two hours.
With demand for platelets shooting up across the city, the Delhi health department has ordered all government blood banks to stock adequate quantity of the blood product and also directed private blood banks to ensure their availability at nominal rates.
Jain also appealed to people to leave the issue of admission of suspected dengue patients in hospitals to the doctors.
"I have ordered all government hospitals that they should not refuse to admit dengue patients even if they have to treat two patients on a single bed. Admission of patients to hospital should be left to doctors," Jain said.
Kejriwal told MLAs to involve themselves in overseeing the treatment to the dengue affected people.
"While you visit the hospital, talk to the patients. See that there is no panic. Ensure that the stock of medicines is proper, ensure that the hospital is clean and no one is turned away by the hospital. Also see to it that there are ample testing kits available in the hospital," Kejriwal said.
27 MLAs, who are Chairpersons of the Rogi Kalyam Samitis, were present in the meeting.
Jain said government has made the three-parliamentary secretaries for health the nodal point for coordination to handle dengue-related issues with MLAs.
Apart from the Health minister himself, these three parliamentary secretaries would coordinate efforts relating to shortage of medicines, testing kits, besides other issues related with controlling and managing the disease.
"Two new death victims are -- 6-month-old Anishka, who was admitted to Hindu Rao Hospital on September 12 and Surjeet Singh, 54-year-old man admitted to Fortis Hospital in Vasant Kunj. Avinash, 7, from Lado Serai, was on suspected dengue victims' list, but his case has now been confirmed," a senior official of SDMC told PTI.
On Sunday, Delhi government had decided to add 1,000 beds to accommodate new dengue patients in its hospitals. The decision followed outrage over the death of a seven year-old boy from dengue after he was allegedly refused treatment by five private hospitals, which prompted his distraught parents to commit suicide by jumping off a four-storey building.
The municipal corporation said the 613 cases reported between September 5 and 12 marked an increase of over 140 per cent over the week before.
The number of cases between January 1 and September 12 in 2014, was 55, while in 2013, it was 466. The corresponding number in 2012 was 19 and 131 in 2011. Last year, the city had reported three deaths and recorded nearly 1,000 dengue cases.
Three deaths including that of a 10-year-girl, who died in the first week of August, have been designated by the municipal authorities as suspected dengue death cases. The other two victims on that list had died at AIIMS.
Meanwhile, both BJP and Congress accused Delhi Government of total failure in controlling the situation.
Image used for representational purposes only