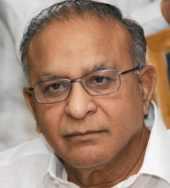 Jaipal Reddy, who has been given the science and technology ministry, is deeply upset by his transfer from the petroleum and natural gas ministry and did not come to handover charge to new minister Veerappa Moily.
RPN Singh, who has been shifted from petroleum to home in Cabinet reshuffle, welcomed Moily, who was among the first ones to report to their new offices on Monday morning.
Our sources tell us that the sulking Reddy may not assume office. He was expected to take up his new assignment at the science and technology ministry on Monday.
Reddy had been accused of being indecisive and almost halting oil and gas exploration.
Reddy's transfer to the science and technology ministry is seen as a demotion and reports have appeared that he was transferred for his run-in with Reliance Industries owned by Mukesh Ambani.
Reddy refused to comment on his exit, but supporters said his options are limited.
Reddy took over as the petroleum and natural gas minister last year, replacing Murli Deora.
He took on Reliance on multiple fronts over its DG gas fields in the Krishna Godavari basin. Once India's second-biggest producer of natural gas, the DG fields have been under-performing.
The Reliance-led consortium has said the problems are related to geological complexities, but Reddy had asked arbitrators to look at the matter.
With inputs from ANI