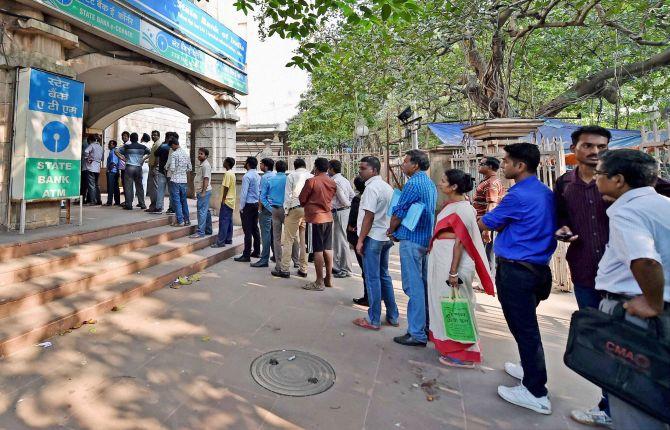 Congress alleged that Prime Minister Narendra Modi sounded "apologetic" in his New Year eve speech as his 50-day "shuddhi yagna" of demonetisation has turned out be an "uncontrolled forest fire" that has claimed "several lives" and crippled the economy.
The opposition party also claimed that the scheme of financial assistance to pregnant women, announced by Modi, was actually started by the United Progressive Alliance.
Hitting out at Prime Minister for calling note-ban a 'shuddhi yagna', senior Congress leader Prithviraj Chavan said the move is nothing short of an "uncontrolled forest fire" that has claimed several lives and hit the economy.
He said the speech gave no "hard data" on how much black money was extinguished, whether sufficient quantity of Rs 500 notes were issued and about restrictions on cooperative banks.
Chavan said the speech did not have clarity on the legal issues raised over note ban and compensation for deaths "due to demonetisation exercise".
"The entire black currency available in the economy has been converted into legitimate money. Exact opposite of what the PM wanted," Chavan said.
Chavan also questioned whether there was a deliberate attempt to keep Rs 500 notes out of circulation and wondered whether Modi was advocating a zero-cash economy.
"This will be one of the most depressing starts of a new year in recent memory. The prime minister's speech was full of jingoistic appeal wrapped in nationalistic fervour comparing demonetisation with external aggression," Chavan said.
Chavan, who was also a Minister of State in the Prime Minister's Office in the UPA, said the scheme of financial assistance to pregnant women was started by the UPA
in November 2010 as a pilot project.
"It became part of the National Food Security Act (2013). The financial assistance under this scheme was increased from Rs 4000 to Rs 6000 in 2013 itself," the Congress leader said. Chavan said Modi's speech writers displayed poor understanding and made "fanatic assertions" when the prime minister said all Rs 500 and Rs 1,000 notes were used to run the parallel economy.
"It is an insult to the daily-wage earners, farmers, small traders and the 70 per cent of the country who have no access to banking services or not financially literate," he said.
Chavan said agriculture has been hit with sales in the informal sector reduced by 30-40 per cent. He, however, said Modi agreed to Congress vice-president Rahul Gandhi's demand that government bear two month's interest rates on loans taken by farmers.
"The government's claim of increased acreage of sowing compared to last year is hollow when we consider drought in the previous year. In December 2015, 207 districts in nine states were reeling under severe drought. (And) converting Kisan Credit Cards to RuPay cards cannot be a substitute for cash," Chavan said.
On Modi's appeal to banks to concentrate on the poor and the middle class, Chavan said financial institutions do not function on appeals, but under the Banking Regulatory Act and the RBI Act.
"RBI has to issue order and the government will have to compensate banks for any interest subsidies," he said.
He wanted to know what the Income Tax was doing when only 24 lakh people have a declared annual income of over Rs 10 lakh.
"All he had to do was to make a phone call to the revenue secretary and he could have obtained a full break-up on tax payers. The real question is what was the IT department doing? What did they do about the Rs 500 crore Reddy (mining baron Janardhan Reddy' daughter's) wedding in Bangalore.
"The PM also accepted that some officers committed grave errors. But he could have sounded credible if he had given details of how many people were arrested and how many were dismissed," he said.
Chavan said ahead of Modi's address, people thought he would unleash a "second surgical strike" and might "distribute" the black money unearthed after demonetisation.
"There was an element of greed that PM might distribute the black money, which was unearthed as a result of note bandi, into their jan dhan accounts as he had promised before the Lok Sabha elections," he said.
"There was also a hope that there would no more be lines to withdraw money from banks and ATMs. Modi had emotionally begged for 50 days to return the country to normalcy," Chavan said.
However nothing happened, he said.