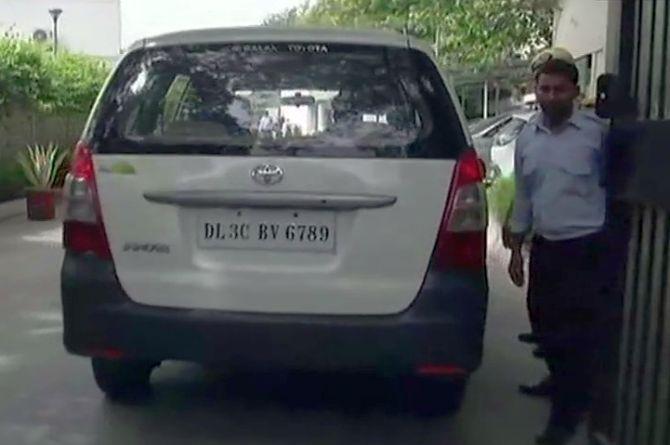 "What does PM Modi want," was Delhi Chief Minister Arvind Kejriwal's reaction on Wednesday, as he linked the Central Bureau of Investigation action against minister Satyendar Jain to his government's announcement of proposed norms for private hospitals and alleged that the Bharatiya Janata Party wanted the new policy scrapped.
Kejriwal claimed the new policy will 'end profiteering' by private hospitals and the Aam Aadmi Party government will go ahead with the proposal, "No matter how many raids are conducted".
The AAP accused the central dispensation of keeping its ministers and MLAs 'in controversy' to ensure that the work done by the Delhi government was not highlighted among the people.
It said the 'raid' was an attempt to divert people's attention from the 'good works' done by the Arvind Kejriwal government.
The reaction came after CBI conducted searches at Jain's residence and other places after filing a fresh case against him in connection with alleged violation of norms in hiring architects for the public works department.
'What does PM Modi want?' Kejriwal tweeted
'Satendra announced policy against profiteering by private hospitals and today raids were conducted at the behest of Modi government.
'BJP wants this policy scrapped. It is a revolutionary policy and will help common people. We are not afraid of CBI. The policy will continue no matter how many raids are conducted (sic),' Kejriwal tweeted.
His deputy Manish Sisodia said the AAP dispensation was stopping 'loot' of private hospitals, but the 'Centre gets pain, and it gets raids done by CBI'.
The Delhi government on Monday issued a draft advisory for private hospitals that includes a proposal to waive a certain percentage of the treatment cost in case of patient's death and that they cannot refuse to release the body if the family is unable to pay the bills before the funeral.
Senior AAP leader Ashish Khetan alleged it has become a pattern in the last three years that whenever the Delhi government do 'good work', the CBI, Anti-Corruption Branch (ACB) and Delhi Police register cases against Aam Aadmi Party ministers and MLAs.
"They (Centre) try to ensure that our works are not highlighted among people and keep us in controversy. In the last three years, Modi's police has failed to provide single evidence in courts against AAP ministers and MLAs.
"Our MLAs have been acquitted by courts in all cases registered against them," Khetan told reporters in New Delhi.
The AAP leader also alleged that the CBI and Delhi Police have been trying to 'implicate' AAP leaders in false cases.
"Raid is conducted on us so that an elected government is not allowed to work. In the history of democracy in 70 years, such harassment of an elected government has never been done by central agencies," Khetan said.
AAP leader Raghav Chaddha said Prime Minister Narendra Modi and BJP chief Amit Shah have been unable to "digest" the huge mandate received by the AAP in the 2015 Delhi Assembly elections.
"Since the AAP got 67 out of 70 seats in Delhi, Modi and BJP chief Amit Shah have not been able to digest their defeat. No agency is left under the NDA-led Centre which has not attacked the AAP government," he said.
"Be it CBI, ED, Economic Offences Wing and the Delhi Police, they (Centre) have tried to threaten us (AAP)," Chaddha said.
Jain is already facing probe in a case pertaining to money laundering.
The CBI had registered a preliminary enquiry into the hiring of 24 architects for a creative wing of the PWD through an agency, which reportedly lacked any prior experience, the officials said.