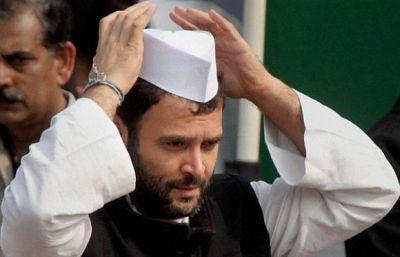 Several in the Congress party are questioning whether Vice President Rahul Gandhi is really interested in politics. Renu Mittal reports
The disastrous performance in the Delhi elections has brought upon a sense of unease in the Congress party. There is great anger among the party workers and leaders feel it may spill out in the open anytime.
The Congress leadership is contemplating whether it should go ahead with the All Indian Congress Committee meet scheduled to convene in March. There is fear that the leaders may be manhandled by party workers who are upset at the manner in which the party fought the polls, said an AICC official.
There have been several complaints pouring in since the past two days, the official said. The grievances include the absence of a Pradesh Congress Committee executive before the polls, no district or block level committees, the delay in bringing in AICC in charge P C Chacko and the non-inclusion of senior leaders to develop a coherent election strategy.
There were also complaints against Delhi PCC president Arvinder Singh Lovely who created hindrances for the party's campaign committee chairman Ajay Maken.
There is resentment against Congress President Sonia Gandhi and Vice President Rahul Gandhi. The vice president is accused of not being involved in planning the election strategy and supporting the candidates.
An AICC functionary questioned why Rajya Sabha seats were given to leaders who did not step out of their offices and campaign for the party. The three Rajya Sabha MPs from Delhi -- Janardhan Dwivedi, Dr Karan Singh and Pervez Ahmed -- were conspicuous by their absence during the elections.
The biggest criticism is being levelled against Rahul Gandhi, and Sonia Gandhi is being blamed for choosing her son over the party.
According to a seasoned party leader, it won't be long before the criticism against the leadership comes out in the open.
After the party's Lok Sabha defeat no heads have rolled, no responsibility fixed, no message that the leadership is worried about the successive defeats at the Centre and states.
Leaders are questioning if Rahul Gandhi is serious about his politics or whether he is in it because of pressure from his mother who wants him to take over from her.