A multi-layered security cover has been thrown over the national capital ahead of Independence Day with over 40,000 security personnel deployed across New Delhi to keep a hawk-eyed vigil against any possible terror strike.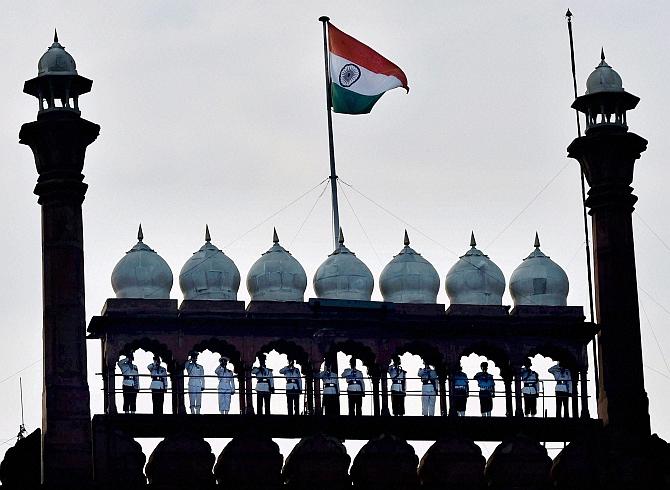 Over 12,000 of these personnel, drawn from paramilitary forces and Delhi Police, have been deployed in high security areas, especially in and around the Red Fort from where Prime Minister Narendra Modi will address the nation on Saturday after unfurling the tricolour.
"We have laid out a ground-to-air security apparatus to counter any possible terror strike," said a senior Delhi Police official.
He said the area surrounding the Red Fort will be fortified by around 6,000 security personnel. Sharpshooters of NSG are being deployed on the high-rises near the 17th century Mughal fort.
Modi will address the nation for the second time from the ramparts of the Red Fort.
Around 5,000 personnel from the local police, Special Cell and Security wing of the Delhi Police have been deployed while the traffic police will maintain smooth traffic flow.
This is apart from the 30,000 personnel deployed in the city to maintain law and order.
This year, the number of CCTV cameras have been increased to extensively cover the route to be taken by the PM and other dignitaries to reach the Red Fort, said the official.
Over 500 CCTV cameras have been installed in and around the Red Fort. A centralised control room has been set up as part of the security drill.
Specialise units like Quick Reaction Teams, Bomb squad and Dog squad are being deployed along with the commando units of Delhi Police at sensitive points.
A no-fly zone will be put in place besides patrolling of the skies by helicopters, officials said.
To neutralise any air borne strike, skies will be also watched by various agencies and an air defence mechanism will be in place to thwart any such threat, said an official.
Photographs: PTI Photo