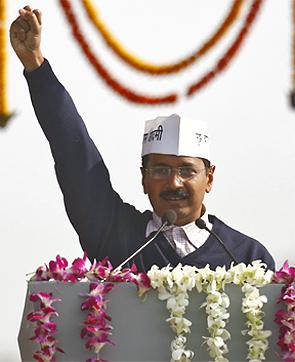 Chief Minister Arvind Kejriwal on Thursday promised to make Delhi a world class city in "just four years" and stressed the need for adopting technology, but without any loss of jobs, to ensure cleanliness in the national capital.
"As I had said during the elections, we will make Delhi one of the best cities in the world," he said inaugurating mechanical Road Sweepers on Kalibari Road in Central Delhi.
"If we continue to receive the love and support of the public and the workers, then not in five years, we will make Delhi a world class city in just four years," he added
The chief minister said that use of mechanical road sweepers by New Delhi Municipal Corporation is on trial basis and if it proves successfully, then all PWD roads, stretching to about 1260 kms, in the national capital will be cleaned with this technique.
The sweepers will also help tackle particulate pollution which was a cause of serious concern for Delhi government, officials said.
"We will see how successful it is. If it proves successful then we will use mechanical sweeping for 1260 km-long PWD roads in Delhi in next phase," he said.
However, Kejriwal stressed that with introduction of mechanical sweeping, no sanitary worker should lose job.
"There is one condition though no one should lose his job because of this. There is already too much unemployment in the country. But till I am here, rest assured no one will lose his job," he said and at the same time stressed on use of technology for keeping Delhi clean.
Eight mechanical road sweepers were launched by the NDMC for 'wet cleaning' of main roads and other smaller roads in the areas covered by it.
NDMC Chairman Dharampal said that this technique will curb particulate pollution, caused by dust particles etc, while emphasising that it will not have any impact on jobs of sanitary workers.
Chief Secretary of the Delhi government KK Sharma said that particulate pollution was a cause of serious concern for the Delhi government.
The environment department of government has commissioned a study by IIT Kanpur to determine the extent and nature of particulate pollution in the city to devise a strategy to keep a check on it, he added.