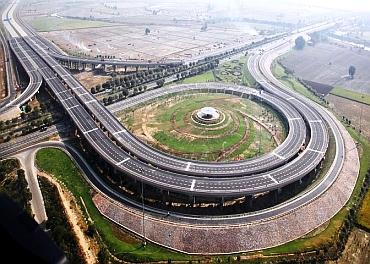 The 165km-long Yamuna Expressway, which will reduce commuting time between Greater Noida and Agra to a mere two hours, was thrown open on Thursday, after months of delay.
The fast-track road, built at a cost of Rs 12,000 crore, was inaugurated by Uttar Pradesh Chief Minister Akhilesh Yadav on Thursday morning and opened for public at 4 pm.
While cars would have to pay Rs 320 for a one-way trip, two-wheelers would have to shell out Rs 150. The CM said the Noida-Greater Noida road would not be included in the expressway and no toll would be realised for using it.
The project saw the light of the day after months of delay due to varied reasons ranging from farmers' protests over land acquisition to demand for free service lanes for nearby villages.
When the project was conceived initially a deadline of 2013 was set. But the government later advanced it to 2010 in view of the Commonwealth Games.
At Tappal in Aligarh district, there was a violent agitation by farmers over land acquisition. Three farmers and a policemen were killed in a clash there in August 2010.
After the inauguration this morning, one farmers' group met Samajwadi Party leader and Rajya Sabha member Ram Gopal Yadav and demanded a service road and other facilities for themselves.
Villagers have also complained that at more than 20 underpasses water-logging was witnessed during the recent rains. Yadav asked the Jaypee group, which has built and will
maintain the road, to provide parallel service roads to the adjoining villages so that they have toll free access from one village to another through the service roads.
Rashtriya Lok Dal Member of Parliament Jayant Chaudhary said that service lanes meant for the movement of local farmers had not been built and warned that this highway would not be able to run for long in its present form.
"At a time when this road is being inaugurated, the farmers of the region are protesting. Their demand is that when this contract had been sanctioned, the concessionaire Jaypee was supposed to build service lane on both sides for the entire 165 kilometre distance," Chaudhary said.
Inaugurating the mega project, Akhilesh Yadav said no land acquisition would be done without the consent of farmers and cases lodged against them during the previous government would be withdrawn.
Image courtesy: Wikimedia Commons