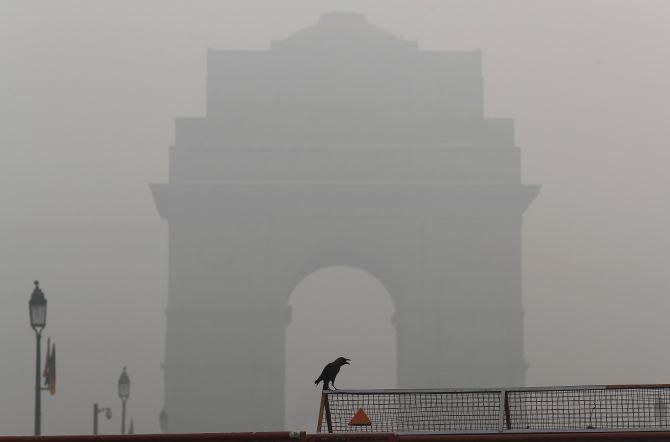 Pollution caused a major disruption at Delhi airport on Sunday as 37 flights were diverted to other airports due to heavy smog, officials said.
Due to low visibility at Delhi Airport, thirty-seven flights were diverted between 9 a.m. and 1 p.m. to places like Jaipur, Amritsar Lucknow and Mumbai, they said.
As of now, the visibility has improved, the airport officials said.
While Air India said it diverted 12 flights since 9 am, Vistara said it diverted five flights after 10 am due to smog at the airport.
An Air India spokesperson said, "Bad weather affected flight operations since morning 9 am in T3 airport (Delhi). Twelve flights diverted to Jaipur, Amritsar and Lucknow."
When asked if it can be said that 'bad weather' is actually the pollution, he replied in affirmative.
"Five flights each were diverted to Jaipur airport and Amritsar airport, two flights were diverted to Lucknow airport," the spokesperson added.
A Vistara spokesperson told PTI that while four flights - which were coming from Bengaluru, Ahmedabad, Chennai and Goa - were diverted to Amritsar airport, one that was coming from Kochi was diverted to Mumbai airport.
"The diversion began post 10 am today due to smog," he added.
Five Air India flights that were coming to Delhi from Kolkata, Mumbai, Chennai, Ahmedabad and London were diverted to Jaipur airport on Sunday.
Moreover, five flights of the national carrier that connect Singapore, Surat, Bahrain, Bhopal and Nagpur with Delhi airport were diverted to Amritsar airport on Sunday, the Air India spokesperson said.
Two flights of Air India that were coming from Pune and Mumbai were diverted to Lucknow airport, he added.
Pollution levels in Delhi and satellite towns shot up again on Sunday morning, with the air quality bordering the 'severe plus' category at several places.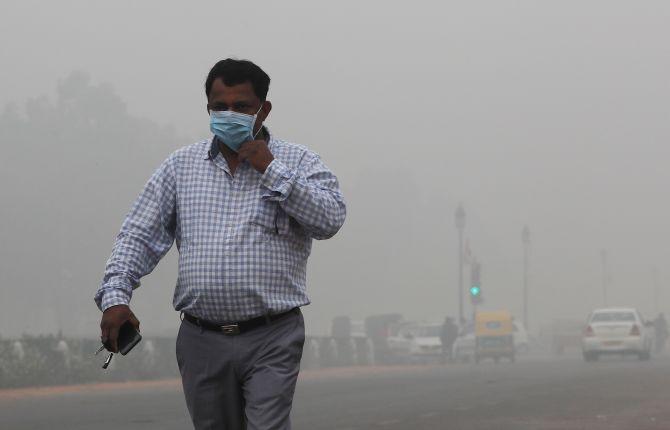 A slight increase in the wind speed and a light drizzle on Saturday had led a drop in pollution levels with the air quality index settling at 399 in the evening.
However, weather experts said pollution levels shot up overnight due to calm winds leading to accumulation of pollutants.
At 11 am, Delhi's AQI read 483.
Delhi Chief Minister Arvind Kejriwal on Sunday said the issue of pollution should not be 'politicised' and called on all neighbouring states and the Centre to 'sit together' and deliberate on how to prevent stubble burning as the air quality in the national capital dipped to alarming levels.
Keriwal said his government was not indulging in 'blame game' but looking for solutions to pollution caused by stubble burning.
"This matter should not be politicised. People of Delhi did everything they could to reduce pollution in the city but concrete steps have to be taken against stubble burning," he said in a video message.
Kejriwal further questioned the pace at which the Centre is distributing straw management machines to farmers to stop stubble burning.
"Till now 63,000 machines have been made available to farmers in Punjab and Haryana. There are 27 lakh farmers in these states. How long would it take to distribute these machines to all these farmers. For how long do we have to bear this pollution," he said.
Kejriwal called on all neighbouring states and the Centre to 'sit together' and deliberate on solving the pollution caused in Delhi due to stubble burning.
The chief minister also appealed to people to follow the odd-even road rationing scheme beginning Monday.
"I urge people to use to car-pooling when they are not able to drive their car during this scheme. I will also be following the scheme strictly," he said..
On Friday, the city recorded the 24-hour AQI average of 484, which prompted authorities to shut schools, ban all construction activities and declare a 'public health emergency'.
The Friday's highest was the worst since November 9, 2017, when it was 486.
The AQI at Pusa, Bawana, Anand Vihar, Ashok Vihar, Mundka, Punjabi Bagh and ITO was between 490 and 500.
In the National Capital Region (NCR), Noida (487), Ghaziabad (483) and Greater Noida (470), Gurgaon (457), breathed extremely polluted air.
An AQI between 0-50 is considered 'good', 51-100 'satisfactory', 101-200 'moderate', 201-300 'poor', 301-400 'very poor' and 401-500 'severe'. Above 500 falls in the 'severe plus' category.
National Aeronautics and Space Administration satellite imagery showed vast swathes of the northern plains, covering Punjab, Haryana, Delhi, Uttar Pradesh, Bihar, and parts of Jharkhand and West Bengal, blanketed under a smoky haze.
Delhi is pinning hopes on meteorological relief with the weatherman saying winds gusting up to 20-25 kilometers per hour are likely to prevail in the region from Sunday evening to Tuesday.
Scattered rainfall in Punjab, Haryana, Rajasthan and Delhi is likely on November 7 and 8 under the influence of Cyclone Maha and a fresh western disturbance.
This rainfall, however light, will be significant in terms of reducing the effect of stubble burning and washing away pollutants, officials said.
On Friday, the Supreme Court-mandated Environment Pollution (Prevention and Control) Authority had declared the 'public health emergency', following which the Delhi government decided to shut all schools.
The EPCA also banned all construction activities in Delhi-NCR till November 5.
Chief Minister Arvind Kejriwal called Delhi a 'gas chamber' and blamed stubble burning in Haryana and Punjab for the apocalyptic haze shrouding Delhi.
The share of stubble burning in Delhi's pollution stood at 46 per cent on Friday, the highest so far. It dropped to 17 per cent on Saturday and is expected to be 12 per cent on Sunday, according to the Ministry of Earth Sciences' air quality monitor SAFAR.
40 per cent Delhi-NCR residents want to move to other cities due to pollution: Survey
Over 40 per cent residents of Delhi and NCR want to move to another city because of bad air quality while 16 per cent want to travel during the period, according to a new survey.
The survey with over 17,000 respondents from Delhi and NCR region has found that 13 per cent resident believe that they have no option but to cope with rising pollution levels.
"Over 40 per cent residents said they would like to leave Delhi NCR and move somewhere else while 31 pc said they would stay in Delhi NCR and would equip themselves with air purifiers, masks, plants etc," according to findings of the survey done by online platform 'LocalCircles'.
"While 16 per cent people said they would stay in Delhi NCR but travel during this period of toxic pollution, 13 pc said they would stay here and have no option but to cope with rising pollution levels," it added.
When asked, how the pollution affected them and their family in the past week, 13 per cent respondents said one or more of them have visited a hospital already while 29 per cent said one or more of them have visited a doctor already.
"44 per cent respondents said they were having health problems related to pollution but have not visited a doctor or hospital and only 14 pc people said they have had no impact of pollution on their health," according to the survey.
With inputs from ANI