Here's what the national capital needs to do to ensure the residents stop breathing toxic fumes, according to Ankur Bhardwaj.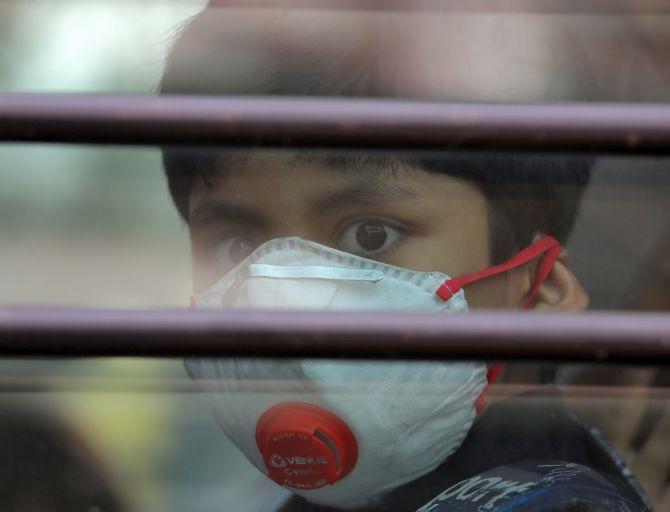 After a particularly bad spell of toxic air in the city about three years ago, the Delhi government was facing severe criticism for not doing enough to contain the menace. It responded by announcing a novel traffic management scheme where only the vehicles with odd number plates would be allowed to ply on Delhi roads on days with odd dates, and even-numbered vehicles on even dates. Sundays were an exception and allowed all vehicles.
The road-rationing scheme, which drew inspiration from a similar one in Beijing before the summer Olympics of 2008, was to run for two weeks starting January 1, 2016. The idea was to reduce pollution in the city by containing vehicular emissions.
Another important step came from the Supreme Court in 2017. Right before the country was to celebrate Diwali, the apex court announced a blanket ban on any sale of firecrackers in Delhi and the National Capital Region, which includes various districts of Haryana, Rajasthan and Uttar Pradesh. The SC was prompted to impose this ban, even at the cost of hurting a large number of small businessmen, as the region had faced possibly the worst phases of air pollution in 2017.
On October 23 this year, the SC declined to impose a similar blanket ban but did stipulate certain conditions, including a ban on crackers with emissions above a particular level. Diwali is of particular concern, as air pollution levels on the morning after Diwali show a huge spike year after year, as people burst firecrackers in celebration the previous night.
Let us take stock of the things Delhi-NCR has done and needs to do in order to control air pollution.
How Delhi-NCR tackles air pollution now
The Environment Pollution (Prevention and Control) Authority for NCR submitted a Comprehensive Action Plan for air pollution control to the Supreme Court in April 2017. According to this plan, Delhi needed to reduce PM10 concentration in its air by 74 per cent, and PM2.5 by 69.7 per cent, to meet the annual average standard under the 2009 National Ambient Air Quality Standards. The plan, which came a public interest suit was filed in the Supreme Court by M C Mehta, also included a Graded Response Action Plan for Delhi-NCR.
GRAP introduced four grades of air pollution -- Moderate Poor, Very Poor, Severe and Emergency -- with commensurate action to be taken by the authorities to counter the threat in each condition. The air quality is considered emergency level when the PM 2.5 value exceeds 300 µg/m3 or PM 10 goes past 500 µg/m3 -- and persists beyond the threshold for 48 hours or more. In such a scenario, all construction activity in entire NCR has to come to a halt, entry of trucks in Delhi has to be barred (except for essential commodities), odd-even plan for vehicles has to come into force, and additional steps like shutting of schools are to be considered by the task force.
The major components of the CAP
Peripheral Expressways: In 2005, the SC had ordered building of peripheral expressways to allow traffic not destined for Delhi to bypass it. This was suggested to help reduce air pollution by checking the flow of trucks through Delhi. After a long delay of 13 years, one expressway to the east of Delhi is functional now, and another on the west of the city is likely to become fully functional by the end of this month.
The Eastern Peripheral Expressway connects Kundli in Haryana to Palwal in Haryana via Ghaziabad in Uttar Pradesh. The Western Peripheral Expressway will connect Kundli to Palwal via Manesar in Haryana. These two would together form a ring road around Delhi to facilitate faster and cleaner movement of around 200,000 vehicles daily without adding to the city's traffic or pollution woes.
Upgrade of brick kiln technology
The CAP called for an upgrade of brick kilns in NCR to the zig-zag technology. The EPCA had ordered this change to be done before the season began in 2018 (kilns shut down during monsoon and then start again before winters). Brick kiln chimneys make a substantial contribution to air pollution in Delhi. Of the 3,823 brick kilns in the region, 74 per cent had not upgraded to the zig-zag technology as of July, according to a report by Centre for Science and Environment.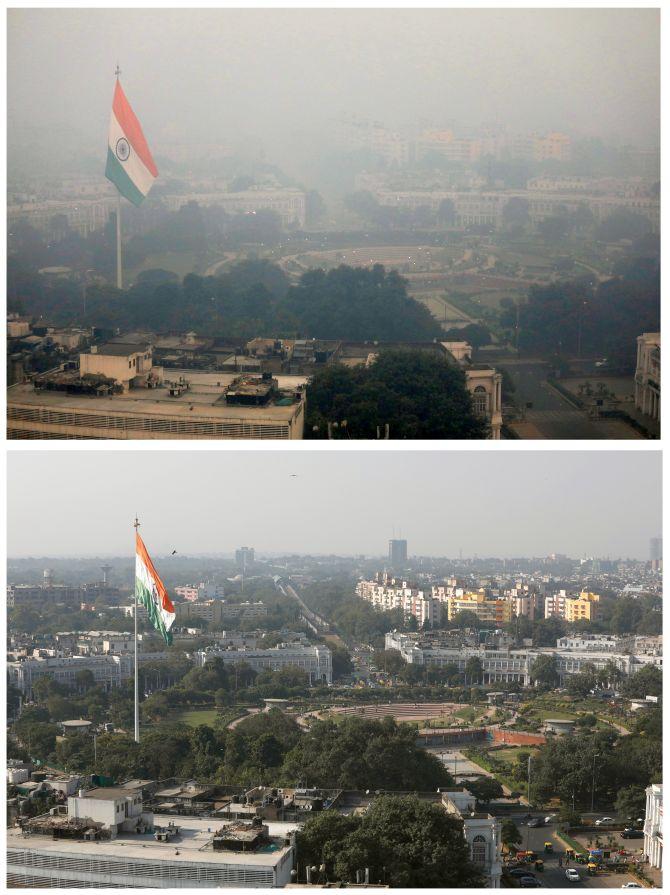 Vehicular pollution
Vehicles account for 20 per cent of all PM2.5 emissions, according to an Indian Institute of Technology-Kanpur study which became the basis for the CAP. Among the measures listed out in the CAP to control vehicular emissions is the introduction of Bharat Stage VI vehicles in Delhi-NCR. While BS VI fuel is already being sold in Delhi since April 1, 2018, BS VI vehicles will be rolled out in 2020. The Supreme Court on October 24 said that no Bharat Stage IV vehicle should be sold across India from April 1, 2020.
The SC had also ordered the imposition of a 1 per cent green cess on diesel vehicles with an engine capacity of 2,000 cc or more. This came into force in August 2016. The CAP also called for an expansion of the CNG programme across NCR which is already underway.
Enhancing public transport
The CAP identified an improvement in Delhi-NCR's public transport as a major factor that could help tackle the problem of poor air quality. The GRAP calls for an automatic introduction of the odd-even plan if the quality of air deteriorates to emergency levels. But this would require the public transport system in the city to be robust enough to take on the additional burden and make commute easier.
In December 2017, Delhi had 5,400 buses plying on its roads. After the Supreme Court ordered that the number should be increased to 10,000 in a year, the Delhi government and Delhi Transport Corporation floated one tender each to procure 1,000 buses. While DTC's tender had to be scrapped, the Delhi government's plan got stuck in courts. In August this year, the SC allowed the Delhi government to purchase 500 buses. Now, a major failure in implementing the CAP seems inevitable as the count of buses in the city will remain nearly unchanged by December 31, 2018, when the SC deadline ends.
Delhi Metro is another major public transport system in the NCR. Construction for one or other phase of the Metro has continued unabated since 1998, but this is likely to be halted from January 2019. The construction work for Delhi Metro's Phase 4 cannot begin, as the Delhi government has not given it the necessary approvals.
Caught in a political tussle between the Centre and the Delhi government, public transport in the national capital has suffered, leading to a lack of preparation for implementing the CAP.
Closure of Badarpur power plant
Badarpur thermal power plant supplied power to Delhi for four decades, but it was also a major contributor to the air pollution in the region. As part of the CAP, this plant was permanently shut down this month; now all power plants in Delhi are gas-based.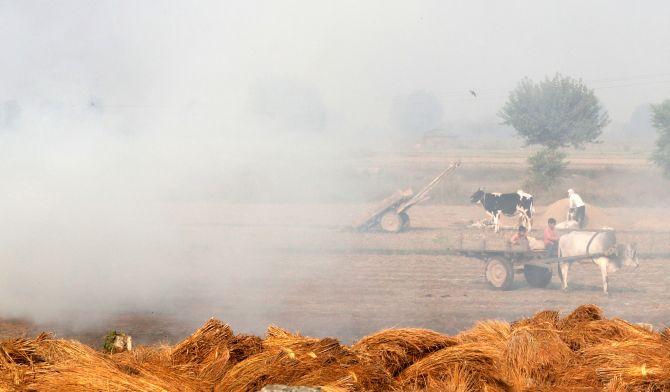 Construction and road dust management
Construction dust and road dust are other key contributors to Delhi-NCR's air pollution. For construction dust, CAP called for covering construction sites behind curtains and using methods like water sprinkling. Road dust could be tackled by vacuum-cleaning of roads, repairing potholes and pavements, etc, to minimise dust.
While CAP acknowledged the need to manage these issues, it did not provide concrete solutions for the major contributors. No mechanism or apparatus was identified to strictly enforce this rule.
Stubble burning management
The aroma of basmati rice grown in Haryana and Punjab (both India and Pakistan) is famous around the world. But this rice leaves another imprint on the quality of air, not only in north India but also in Pakistan. Farmers in these states are given to using combine harvester machines for the rice crop in the months of September and October. These machines leave a trail of stubbles in fields.
To get rid of them before moving to the rabi crop cycle, farmers choose the cheapest method -- setting fire to the stubbles. As this practice is commonplace in large parts of Punjab (of both countries) and Haryana, it adds to the spectre of toxic air in most of North India and Pakistan. So severe is the situation that then CM of Punjab (Pakistan) Shahbaz Sharif in 2017 wrote to his Indian Punjab counterpart Amarinder Singh, urging to enter into a regional cooperation arrangement to tackle the problem.
Legally speaking, the practice of stubble burning is banned in both states, and farmers are liable to pay a penalty for any violation. A solution is offered by a machine known as 'Happy Seeder', which can sow wheat seeds through the existing rice stubble, but its prohibitive price of about Rs 150,000 has prevented its widespread use so far.
The CAP sought to monitor stubble burning using satellites and also called for increasing subsidy to farmers for purchase of Happy Seeder machine. At a meeting with Prime Minister Narendra Modi, Punjab CM Amarinder Singh sought a compensation for farmers to try and control the menace of stubble burning, and the Union government has provided Rs 17.56 billion for this. But, stubble burning has already started in some parts of Punjab and Haryana and that is expected to make the air fouler in the coming days.
How China and the United States did it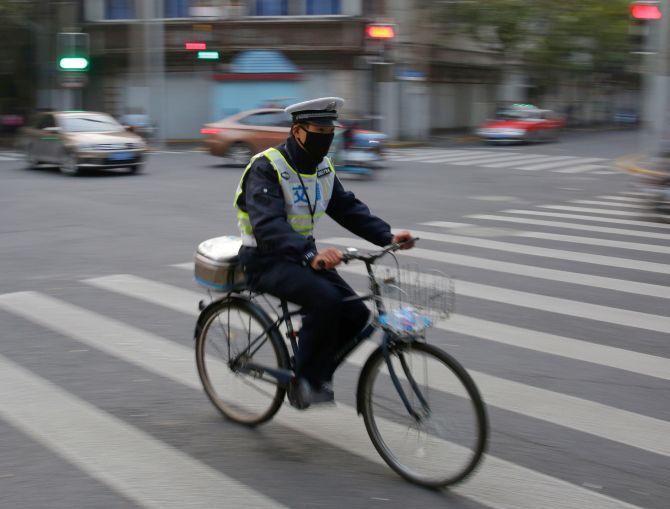 Los Angeles was known as the smog capital of the world in the 1970s. Air quality in the Ohio region was as bad as in Beijing until a few years ago. The US tackled the pressing issue with the Clean Air Act, which was followed by the Clean Water Act. These brought in tighter regulations and also involved shifting of the more polluting industry abroad. That resulted in the US having the cleanest air in the world and added years in life expectancy of its residents.
In March 2014, Chinese Prime Minister Li Keqiang told the delegates of the National People's Congress that China would declare a war against pollution, just like it did against poverty. The target was to reduce particulate matter pollution by at least 10 per cent in some cities and by 25 per cent in the Beijing region. The Chinese government allocated $120 billion to achieve the targets. It also announced a slew of measures to limit emissions, including the desperate measure of banning coal boilers used to keep homes warm during harsh winters. When measured earlier this year, China seemed to be winning this war against pollution, with Beijing showing a 35 per cent reduction in particulate matter pollution.
State and Union governments in India need to emulate the American and Chinese responses to fix the problem of bad air quality in North India, especially Delhi-NCR. If Los Angeles and Beijing can improve their air quality dramatically, there is no reason why Delhi's residents should be breathing toxic fumes.