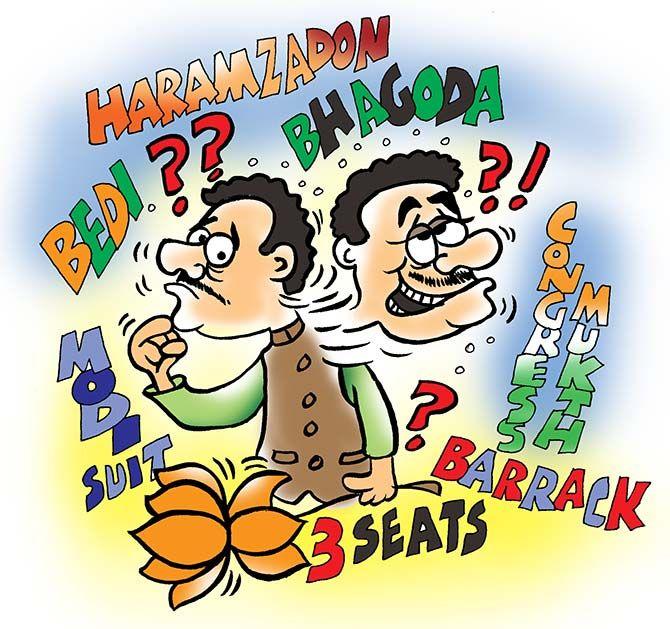 'AAP achieved what it wanted. The BJP achieved what it wanted, a 'Congress mukht Delhi,' and the Congress also achieved what it wanted, which was to keep the BJP out of power.'
Hastin Apur asks a Modi Bhakt to find out why the BJP lost Delhi.
Illustration: Uttam Ghosh/Rediff.com
Since it is impossible to interview Prime Minister Narendra Modi, let alone on the reasons for the Bharatiya Janata Party's rout in the Delhi election, we got in touch with a diehard Modi Bhakt to find out why the BJP had lost so miserably.
What were the reasons for this debacle?
Look at the Congress party! Just look at their condition. Poor guys didn't win even one seat, hahahaha. Isn't it funny that the party which ruled Delhi for 15 years did not win a single seat?
So the Delhi election is a win-win situation for everybody.
Er... how?
You see, the Aam Aadmi Party achieved what it wanted. The BJP achieved what it wanted, a 'Congress mukht Delhi,' and the Congress also achieved what it wanted, which was to keep the BJP out of power.
Isn't it a win-win situation for every party?
Never before has it happened in the history of Indian politics that the winning party and losing parties are all happy with the election results.
But your party won only three seats!
Blame it on the Congress! The Congress won 25% votes in the 2013 assembly election. It fell to 9% this time. All their voters shifted to AAP, so we lost.
If you see our vote share, it fell from 34% in 2013 to 33% in this election -- a loss of just 1%.
Moreover, Modiji and the BJP were never interested in winning the Delhi elections.
What are you saying!
Yes, are you not on social media? Haven't you seen this Gulf News report (external link) that has been circulating for the last one month?
See what it says. That the BJP's top brass is aware that even if the party wins Delhi, the state will remain a headache -- due to intra-party bickering and because of impatient voters who expect immediate results and good governance, something the BJP is unsure of delivering.
The BJP controlled the city-state's civic bodies for years, but failed miserably. Losing Delhi won't be such a bad idea!
Do you then credit Modi for making the BJP lose this election?
Of course.
Don't you think Modi would not have wanted to lose so badly?
Blame it on wi-fi.
Wi-fi? Do you mean hi-fi voters?
No, wi-fi voters. That bhagoda promised youngsters free wi-fi in Delhi. I don't know how youngsters got fooled by this promise.
Just like youngsters were captivated by our great leader's slogan of Achche Din, which we are seeing today for bhakts like me, these youngsters got carried away by the wi-fi promise.
So you won't blame Modi for the Delhi election defeat?
I blame it on (Kiran) Bedi.
You know, when cricket TRPs were low they brought in Mandira Bedi which got women hooked on to watching cricket.
The same way, we thought since there was no other face to represent us in Delhi we got a Bedi, Kiran Bedi. She was our face and we lost because of her.
What about the expensive suit which Modi wore when he met Obama?
Oh, that is a small issue.
You know, the prime minister's salary is Rs 1.60 lakhs. Moreover, Modiji is single and so he can afford it. Taxpayers didn't pay for that suit.
The promise of putting Rs 15 lakhs in every Indian's bank account also didn't happen. Do you think that led to Delhi voters getting disillusioned with Modi?
No way! Our leader Amit Shahji has already clarified that it was just 'chunavi jumla,' it was not meant in literal terms, or that that it would actually happen.
What about inflation? Modiji could not control price rise. The prices of food items are high.
You are wrong. The price of petrol and diesel have come down by Rs 10. That is a big achievement.
But food prices have not fallen...
I have to go now, can you please hurry up with your questions?
How far did the 'Ramzaadon-Haraamzadon' statement by Niranjan Jyoti alienate voters? Even Obama wanted India to be tolerant.
Oh, that Barack guy, what tolerance is he talking about?
Our brother Sureshbhai Patel was attacked in Alabama. Why is he not talking about that?
How did the meeting between Modi and Arvind Kejriwal go?
Oh, Kejriwal was so excited to meet Modiji! He came 20 minutes before the scheduled time. He is the latest to become a Modi bhakt.
Why else would he have come so early?