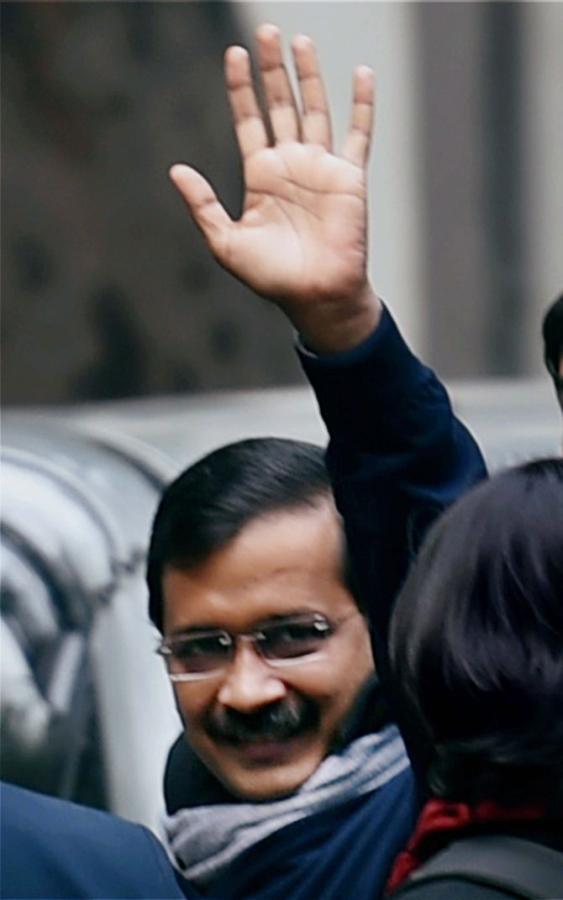 Aam Aadmi Party chief Arvind Kejriwal on Wednesday filed his nomination papers from the New Delhi assembly constituency, raising the pitch in the high-octane electoral battle for the upcoming assembly elections.
The former Delhi chief minister had put off the scheduled filing of his nomination on Tuesday after he failed to reach the election office on time.
Kejriwal reached the election office at around 11.00 am amid slogan shouting by Bharatiya Janata Party supporters in favour of Prime Minister Narendra Modi.
Later speaking to reporters, he said, "Our fight is not against any person or political party. It's against corruption and price rise."
"Last time the people of Delhi had gives us a huge mandate. I hope the people give us the full mandate for running the government for five years," he said.
In the last assembly elections, the activist-turned-politician had defeated the Congress' three-time chief minister Sheila Dikshit in the New Delhi seat by a margin of around 22,000 votes.
Earlier, the AAP supremo slammed BJP's chief ministerial candidate Kiran Bedi over reports of her garlanding a statue of Lala Lajpat Rai by a BJP scarf.
"At least spare freedom fighters. Don't saffronise them. A freedom fighter does not belong to any party. He belongs to the country. We should not divide him into BJP, or Congress or this and that party," he said.
Responding to the charges of the disgruntled candidates of Mehrauli and Mundka, who were replaced by AAP today, Kejriwal said the action was taken after "truth" was found in the complaints against them.
"Complaints about them have come to the party's internal Lokpal. They found truth to those complaints and cancelled the tickets...I don't tolerate these kind of things," he said.
Image: AAP candidate Arvind Kejriwal after filing his nomination papers for upcoming Assembly elections at Jamnagar House in New Delhi on Wednesday. Photograph: Subhav Shukla/ PTI