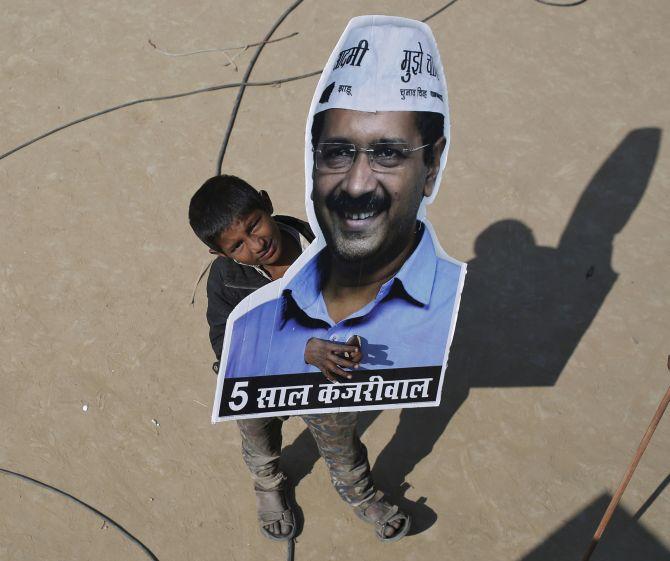 'Their candidates are simple people who will be there in hours of need.'
Rashme Sehgal discovers the reasons for AAP's landslide triumph in New Delhi.
Arvind Kejriwal scripted an unprecedented success story by leading the Aam Aadmi Party to a landslide victory, winning 67 out of the 70 seats in the high profile Delhi assembly election.
The Bharatiya Janata Party won three seats while the Congress got a duck.
What has turned out to be a virtual referendum on the Narendra Modi government in power for almost nine months at the Centre saw Delhi voters reject both the BJP and Congress, to usher in a more participative and people-centric party to power.
Kiran Bedi, the BJP's chief ministerial candidate, lost by a narrow margin from the BJP's traditional stronghold of Krishna Nagar which has been nurtured for two decades by Dr Harsh Vardhan, the BJP's chief ministerial candidate in December 2013.
Speaking to the massive crowds who gathered outside the AAP headquarters in New Delhi, Kejriwal promised to bring about a tectonic shift in doing politics by ending both Delhi's predominantly overbearing 'VIP culture' and 'rishwat-khori (bribe taking).'
Kejriwal also promised full statehood to Delhi, thereby ensuring the police, the New Delhi Municipal Council, the Delhi Development Authority and municipal corporations brought under one state umbrella.
AAP increased its vote share from 33 per cent in the 2014 Lok Sabha election to 54 per cent in this assembly election, having eaten into the Congress vote bank with the Dalits, minorities and Poorvanchal voters consolidating strongly behind the party.
The BJP won 46 per cent of the vote in the 2014 Lok Sabha election, which has come down to 33 per cent. The Congress vote share has slid down to less than ten per cent.
Delhi saw 1.1 million young voters cast their vote for the first time, which seems to have helped swell the AAP vote share.
Kejriwal won the prestigious New Delhi seat with an unprecedented 74 per cent of the vote.
Union Law Minister Ravi Shankar Prasad felt the BJP needed to introspect to understand why the party had lost so badly. BJP stalwarts led by Jagdish Mukhi bit the dust.
Ashutosh, the convenor of AAP's Delhi unit, believed there were several reasons for the party's landslide victory.
"We have spent the last eight months working and nurturing our constituencies. The elected MLAs have been using their MLA funds to implement several water and sewage projects," he said. "That is why our 70 point programme does not hold wild assurances. The extent of our victory is going to place greater responsibility on our shoulders."
Congress strategists continued to shelter Congress President Sonia Gandhi and party Vice-President Rahul Gandhi from taking responsibility for yet another debacle.
Congress MP Mani Shankar Aiyar instead attacked Prime Minister Narendra Modi and BJP President Amit Shah.
"Both Modi and Shah had centralised the election," Aiyar said. "The elections are therefore a defeat of both Modi and Shah. They deployed the entire Cabinet and 120 MPs and they lost badly."
BJP leader Chandan Mitra believes the reason for AAP's victory is because Kejriwal "connected" with people. "Their candidates are simple people who will be there in hours of need," Mitra said, adding a note of caution, "These promises have been made before, but it will take a lot of time to implement."
Mitra regretted that the BJP had not matched AAP's youthful vigour, having opted for a more conventional campaign.
AAP leader Yogendra Yadav believed his party was better organised this time around. AAP's determination to help millions living in urban squalor, he felt, sent the right signals to voters.
This is the biggest victory margin for any political party in Delhi since the first assembly election in 1993. Thousands of AAP activists took to the streets on Tuesday, February 10, shouting and dancing to the slogan, 'Panch Saal Kejriwal (Five years of Kejriwal).'
Image: A young boy celebrates outside the AAP office in New Delhi. Photograph: Anindito Mukherjee/Reuters
REDIFF RECOMMENDS