'It was a harrowing experience to witness the level people stoop to in an election campaign. The Indian election process needs a total revamp if it wants honourable people to enter politics.'
Silicon Valley lawyer Anu Peshawaria, Kiran Bedi's younger sister, shares her memories of the Delhi election, with Ritu Jha/Rediff.com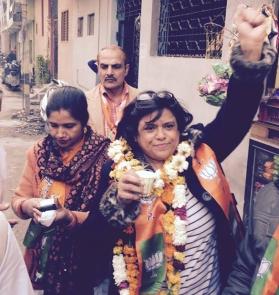 Silicon Valley lawyer Anu Peshawaria, Kiran Bedi's younger sister, right.
"Now that the election is over, there is a feeling of relief. It was a nightmare to try to handle innumerable things thrown at us in such a short time," says Silicon Valley lawyer Anu Peshawaria.
Peshawaria travelled to New Delhi to help her elder sister Kiran Bedi's election campaign.
"I think my sister is too clean for politics," she says.
"There are numerous reasons for the BJP's defeat," says Peshawaria. "It was an experience to see such guerilla tactics being used to mislead voters."
Party politics and internal differences within the BJP, she adds, were among the reasons for the BJP's humilating debacle. The BJP won just three seats in the 70-member Delhi assembly.
"I wonder if it is democratic to threaten the poor and ambush them into voting," Peshawaria asks.
"I saw youngsters and women being lured with Rs 300 to vote. Unfortunately, media persons were also twisting statements to ensure the BJP's defeat," alleges Peshawaria.
"It was a harrowing experience to witness the level people stoop to in an election campaign," she says. "The Indian election process needs a total revamp if it wants honourable people to enter politics."
REDIFF RECOMMENDS