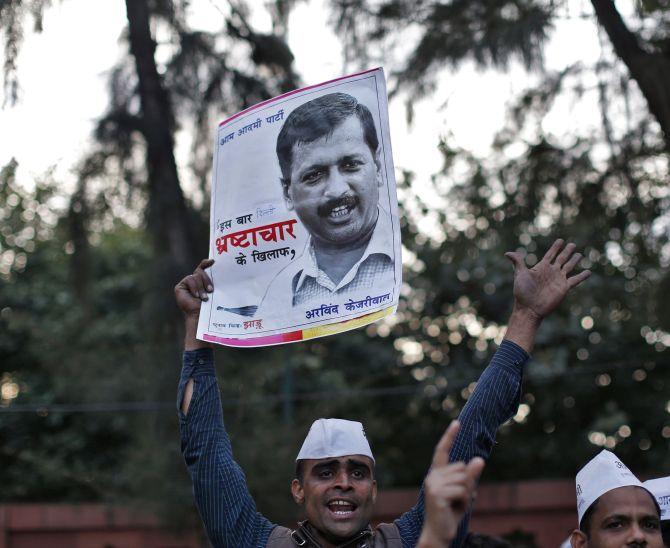 There you have it people. The ink has been cast and the exit polls have spoken. A year after its 49-day stint in power ended abruptly, Arvind Kejriwal's Aam Aadmi Party is set to return to power in Delhi, exit polls said Saturday after record voting in assembly elections
In the elections, billed as a referendum on Prime Minister Narendra Modi but rejected as such by the Bharatiya Janata Party leadership, a resurgent AAP-led by Arvind Kejriwal has emerged the winner in all the polls.
The polls shown on television channels on Saturday have predicted that BJP as the number two party and Congress way behind with none of them giving it more than 5 seats.
The ABP-Nielsen poll said that AAP will get 43 while BJP 26 and Congress 1.
The India TV's C-Voter exit poll put AAP in the top with 35 to 43 seats. BJP 25 to 33 and Congress 0 to 2.
News Nation's poll suggested that AAP would get 41-45 seats, the BJP 23-27 and the Congress would get 1-3 seats.
The News 24 Chanakya exit poll, which got both the 2014 Lok Sabha elections and the 2013 Delhi assembly elections right, predicted AAP would get 48, BJP 22 and Congress with o.
India Today-Cicero exit poll on Headlines Today channel has projected that AAP will get between 38 and 46, the BJP 19-27. Congress has been projected to get up to 3-5 seats.
The highest number of 53 seats for AAP has been predicted by India News-Axis poll, which gave BJP 17 and Congress 0.