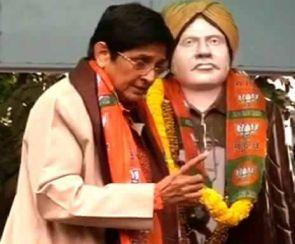 Bharatiya Janata Party chief ministerial candidate Kiran Bedi stoked a controversy on Wednesday by putting her party's scarf around the statue of freedom fighter Lala Lajpat Rai in Krishna Nagar before filing her nomination, which drew sharp criticism from Aam Aadmi Party convener Arvind Kejriwal.
Before filing her nomination, Bedi paid tribute to Lala Lajpat Rai and also cleaned his statue in Krishna Nagar and put a saffron BJP scarf having the party symbol around it. However, she removed it from the statue a few minutes later.
The former Indian Police Service officer also met tea and newspaper sellers in Krishna Nagar before taking out her roadshow and inquired about the kind of issues they were facing
Reacting to the incident, Kejriwal said that she should not "saffronise" the freedom fighters.
"At least spare the freedom fighters. At least do not saffronise them free fighters. A freedom fighter does not belong to any party, he belongs to the country. We should not divide him into the BJP or the Congress or this and that party," Kejriwal told reporters in New Delhi.
Bedi will contest assembly elections from Krishna Nagar constituency, which is a BJP's stronghold.
Delhi will go to assembly poll on February 7 while counting of voters will be held on February 10.
Image: BJP's CM hopeful put her party's scarf around the statue of Lala Lajpat Rai in Krishna Nagar, Delhi
© Copyright 2021 PTI. All rights reserved. Republication or redistribution of PTI content, including by framing or similar means, is expressly prohibited without the prior written consent.