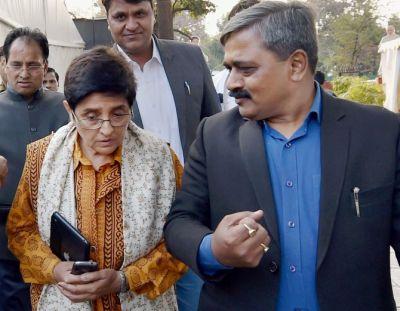 With exit polls having projected Bharatiya Janata Party defeat in Delhi Assembly polls, party leaders met in New Delhi on Monday to take stock of the situation and motivate the party workers.
Delhi BJP President Satish Upadhyay said that though he would not like to challenge the exit poll results he is confident that the party will form a government.
"I don't want to challenge the exit poll results, they have different terminology, different techniques. Why should I challenge them? But as far as my techniques are concerned, I am confident BJP will form the government," he said.
"May be the margin will be thin ...earlier we thought 45-50 seats...I am not boasting of that but we are confident," he added.
Upadhyay met BJP leaders R P Singh, Prabhat Jha, Ram Lal and Shazia Ilmi among others in the evening to take a stock of the current situation.
However, in the afternoon, the party office wore a subdued look and only a few party workers were seen who were discussing exit poll trends.
"Today we held this meeting to take feedback of the management, yesterday we had taken candidates' feedback. And through the feedback we have got, we are very hopeful that all results will be in favour of BJP," he said.
Party workers said that two separate pujas were offered at Hanuman Mandir in Connaught Place and at Chandni Chowk's Shiv Mandir.
"We have prayed to Hanumanji in the afternoon and also we will go for a puja in the evening to a Shiv Mandir in the evening," said a BJP volunteer.
He said "for the last two days we could not sleep after the exit poll results were shown but tomorrow all these results will be proved wrong and we will form government in Delhi."
Unlike laddoos in the past, this time the party is planning to celebrate with 'pinni' made of desi ghee if it wins the election.
"This time, we will be celebrating with pinni made of desi ghee. We have already ordered for a band and fifty 'dholis' for tomorrow," he said.
When Upadhyay was asked about celebration plans, he said, "I am not going to disclose anything now. You will see the right thing at the right time".
"We have motivated our party workers to not worry about the exit poll results. For tomorrow's preparations, we have already instructed our candidates that they have to be ready with an advocate and all technicalities and legalities they should follow," he added.
Party leader Shazia Ilmi also said "exit polls obviously show some directions to what the results are heading for but they are not absolute so we should wait till the results come out tomorrow."
Image: Delhi BJP President Satish Upadhyay with Delhi BJP CM candidate Kiran Bedi ahead of a review meeting in New Delhi. Photograph: Kamal Singh/PTI