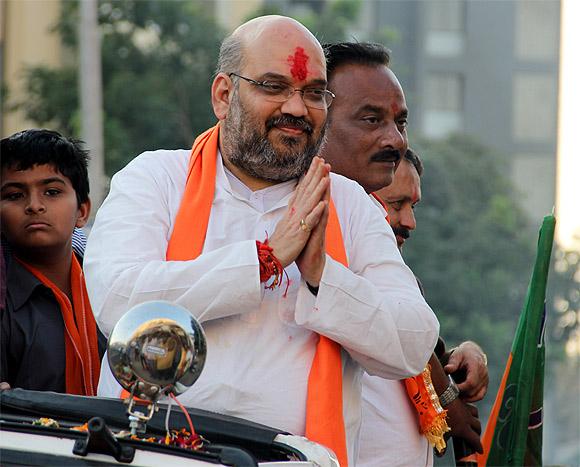 'Tomorrow AAP will say Dawood gave them money but they don't know anything about it!' Amit Shah tells CNN-IBN in an interview.
In an interview to CNN-IBN, Bharatiya Janata Party president Amit Shah has asked how the Aam Aadmi Party can claim to not know about the Rs 2 crore donations received by them. 'Tomorrow you will say Dawood gave you the money but you don't know about it,' he said.
"They said they will investigate all donations, how can they not have inquired about a donation of Rs 50 lakh," he questioned, and claimed that the AAP was using black money in its poll campaign. He also said that AAP has a political affairs committee to probe donations over Rs 10 lakh.
Shah said AAP has always betrayed the people and fallen back on its promises. "They are answerable to the people over why they did not fulfil their promises. They said they will hold jan sabhas every week but that did not happen, they said no minister will travel in executive class but that did not happen, they said they will not take any bungalows but they backtracked," he charged.
Facing allegations over not releasing a poll manifesto for the BJP, Shah said the vision document of the party was no different. "Both the manifesto and vision document are the same thing. There is nothing different between the two. Both have the outlook of the party," he said.
As for not mentioning full statehood for Delhi in the vision document, he said the issue should not be trivialised by bringing it up during polls.
"Full statehood should not be brought up during elections. That is something to be discussed by all stake-holders in a detailed manner. It should not be made into a political issue," he said.
Some of the other things he said during the interview was that Delhi is a state election, and not a referendum on Prime Minister Narendra Modi.
'For us every election is important and we take every election seriously. Development can only happen under the BJP.'
'It's right that opinion polls vary. Delhi has diverse voters and no opinion poll can predict their mood.'
'Confident of BJP victory in Delhi, BJP became stronger after Kiran Bedi's inclusion.'
'Delhi polls not a class war, we will get votes from all classes.'
Amit Shah charged that the AAP had received black money donations and also claimed it "never does what it says".
Saying that India's prestige had "risen globally" since Bharatiya Janata Party leader Narendra Modi's government had taken charge at the Centre, Shah asked the voters to not waste their votes on AAP as the party has "no policy".
"Kali raat me aane wala dhan kala dhan hi hota hai (money which comes in the dark of the night is black money). And he (Kejriwal) says that one should investigate it and put him in jail as he knows that no investigation is possible till February 7 (election day)," Shah said during a rally at Madanpur Khadar area.
He also attacked Kejriwal saying the AAP convener had not fulfilled any of the promises made to the people.
"This AAP is the most peculiar party that I have seen in my entire political career which never does what it says. During the Anna (Hazare) movement, he (Kejriwal) had said he will never get into politics, but he did.
"Then he said he will never take support of Congress and did exactly the opposite to form a government. He promised action against Sheila Dikshit in connection with the CWG scam, did he take any?" Shah said.
The BJP chief said that the "lies" of Kejriwal have been "exposed" and people have to choose between him and the leadership of Modi.
"Before coming to power in Delhi, he (Kejriwal) used to travel in a small car, but after 49 days of his government, he is now travelling in an SUV. If you bring him for 5 years, he will park an aeroplane outside his house," charged Shah.
Further targeting AAP, the BJP chief said that "even the safety of women cannot be ensured" if the party formed the government in Delhi.
"We want to solve the problem of traffic and give pucca houses to every slum dweller at the same place where they are presently living... If a government which stages protests comes to power, will this work be possible... even the safety of women cannot be ensured," he said.
"Under the leadership of Modiji, India is progressing well and the whole world now has faith that under Modi's leadership, the 21st century will belong to India. People have to decide whether they want the party of Modi or the leadership of a man who lies," Shah said.
"Modi is now one of the world's greatest leaders and under his leadership we will win Delhi with at least two-thirds majority," stressed Shah.
The BJP chief attacked the erstwhile Congress-led UPA government at the Centre, saying it could not reduce diesel and petrol prices during its rule although BJP now had done it 12 times in 8 months.
"Inflation was so high during Manmohan Singh's government but the Modi government has reduced the monthly expenses by Rs 1,500-4,500 of families belonging to every income group," he claimed.
Shah said that when former Prime Minister Singh visited any country, people never got to know much about it.
"He (Singh) would read out written speeches, but now when Modi goes to America and other countries, he speaks extempore in Hindi because of which our nation feels proud," he said.
He also took potshots at Congress Vice President Rahul Gandhi.
"Rahul 'baba' says Pakistani firing used to happen during their regime and happens even now, how has it made any difference? He cannot see that earlier there was no retaliation from India, but now India retaliates," he said.