Delhi registered a record voter turnout in the assembly polls which closed at 6 pm, according to preliminary data received from Chief Electoral Officer of Delhi, 67 per cent voter turnout was recorded.
However, the final figure may go up as at some polling booths people are still in the queue.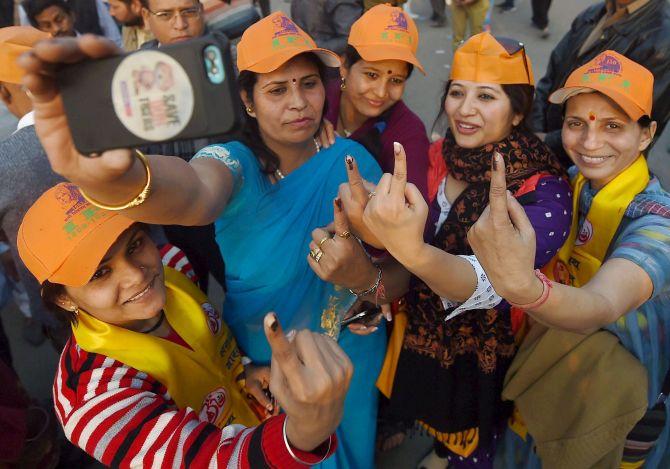 Voting began at 8 am on Saturday for the 70-member assembly.

Chief Election Commissioner H S Bramha said the election process so far has been peaceful.

People in long queues are being seen at various polling booths as they await their turn to cast votes.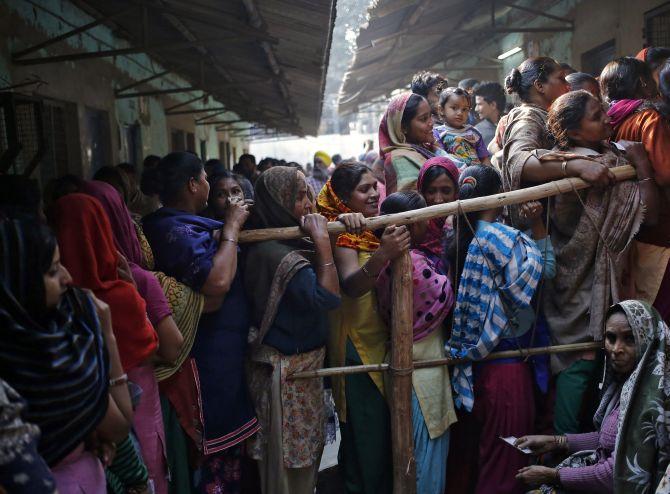 Vice President Hamid Ansari, Congress chief Sonia Gandhi, party Vice President Rahul Gandhi, AAP leader Arvind Kejriwal, BJP's chief ministerial candidate Kiran Bedi, Union Ministers Harsh Vardhan and Maneka Gandhi, Delhi Lt Governor Najeeb Jung, Congress' Ajay Maken and BJP's Varun Gandhi were among the early voters.
The Delhi polls are seen as a direct contest between AAP and BJP and being billed as a referendum on Prime Minister Narendra Modi, a description rejected by his party leaders.
This is the second assembly polls in Delhi within little over one year. The assembly polls in December 2013 had thrown a hung verdict with BJP winning 31 seats and AAP making a stunning debut by wresting 28 seats while Congress got only 8 in the 70-member assembly.
The elections are significant as a defeat for BJP may bolster the opposition while a victory for the party will increase its confidence ahead of assembly polls in Bihar later this year.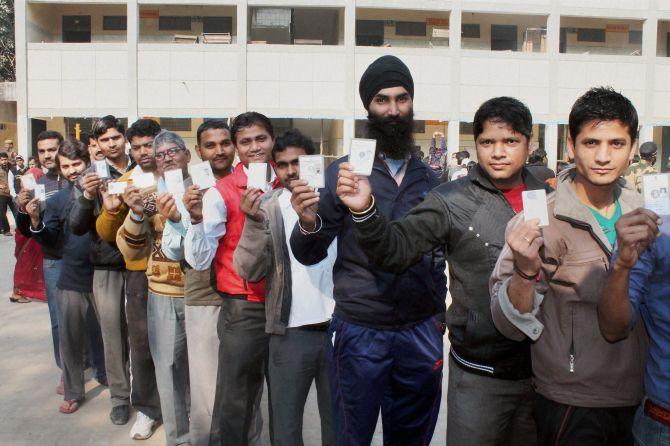 Kejriwal, who led AAP's spirited campaign, exuded confidence of getting a clear mandate for his party as he said truth will triumph in the polls.
"I am confident that AAP will win the elections and form government in Delhi," he told PTI after casting his vote at B K Dutt colony in his New Delhi constituency.
His BJP rival Kiran Bedi, after casting her vote at a polling station in Malviya Nagar, appealed to people to come out in large numbers and vote.
BJPs chief ministerial candidate Kiran Bedi after casting her vote for the assembly elections in New Delhi. Vijay Verma/PTI Photo
"Today is a historic day. Delhiites have to decide what kind of Delhi they want -- a clean Delhi, a secure Delhi, a capable Delhi, a Delhi that respects women. Respecting women is respecting Delhi. I appeal people to come out and vote," she said.
Congress President Sonia Gandhi cast her vote at a polling booth in Nirman Bhavan in Central Delhi. The Congress is not seen as serious contender for power as the fight is largely seen between AAP and BJP.
When asked to comment on the polls, Gandhi said, "Whatever the people want will happen."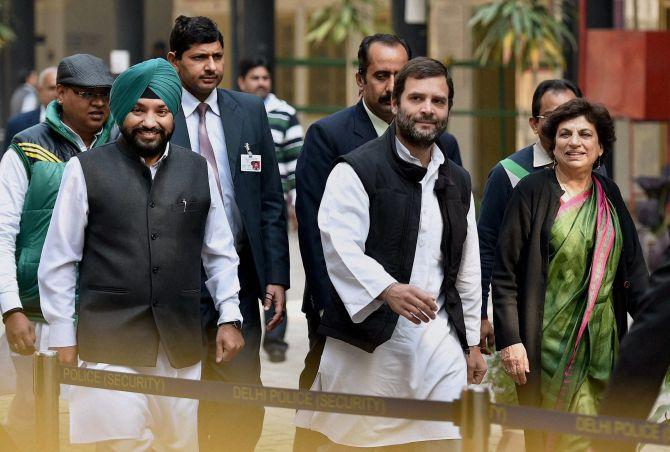 Image: Congress Vice President Rahul Gandhi leaves after casting his vote for the Assembly elections, in New Delhi. Photograph: Atul Yadav/PTI Photo
After casting his vote, Congress' face for Delhi polls Ajay Maken said, the party will never extend or take support from AAP if such a situation arises.
"We will never ever give support to AAP again," he said, adding "I am very hopeful that Congress is going to do exceedingly well and we are going to form government on our own."
The Krishna Nagar constituency, from where Bedi is contesting, has 13 candidates.
Kejriwal is seeking re-election from prestigious New Delhi constituency where he had defeated three-time chief minister Sheila Dikshit by over 22,000 votes last time.
Congress' Kiran Walia and BJP's Nupur Sharma are other two prominent contenders.
Another high-profile constituency is Sadar Bazar, from where Maken is contesting. Congress has fielded President Pranab Mukherjee's daughter Sharmistha Mukherjee from Greater Kailash seat.