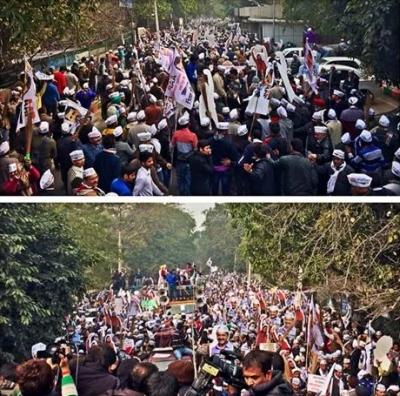 Aam Aadmi Party chief Arvind Kejriwal on Tuesday set out with much fanfare to file his nomination papers for Delhi Assembly election but had to put it off till Wednesday after his road show made it impossible for him to reach the election office in time.

Flanked by senior party leaders including Manish Sisodia, Ashutosh and Somnath Bharti at the rally which turned out to be a show of strength, Kejriwal announced at about 2.45 pm that he had "exceeded the time limit" to file the nomination and will be doing so on Wednesday, the last day for the exercise.

Kejriwal had to reach the District Magistrate's office at Jamnagar House near Jantar Mantar by 3 pm to file the papers, according to his aides.

The announcement to put off filing of nomination papers came after the roadshow had covered a five-km distance out of the seven-km-long stretch between Mandir Marg and Jantar Mantar which it had to take.

"We respect the Election Commission, administration and police. We have exceeded the time limit to file the nomination and for this reason
I will file my nomination on Wednesday," Kejriwal said.
The rally started at around 10.30 am after Kejriwal paid a visit to Valmiki Mandir off Mandir Marg and was to culminate at Jantar Mantar.
"It was already 2.45 pm by the time the rally could make its way to the Gole Market area. He could not have reached the election office at Jamnagar House near Jantar Mantar by the stipulated time," a party spokesperson said.
Addressing the crowd, the former Delhi chief minister called BJP a "machine of lies" and said people of Delhi will script history by electing AAP in the upcoming assembly polls.
"People of Delhi will script history by giving AAP the single largest majority as they want to convert those 49-days of good governance into five years... BJP is a machine of lies and rumours," Kejriwal said, standing atop an open roof vehicle at Mandir Marg.
AAP leader Ashutosh later tweeted: "Due to overwhelming response/too much crowd Arvind could not reach ELECTION OFFICE. He will file his nomination tomorrow."
Wednesday is the last day for filing of nominations for the February 7 assembly election.