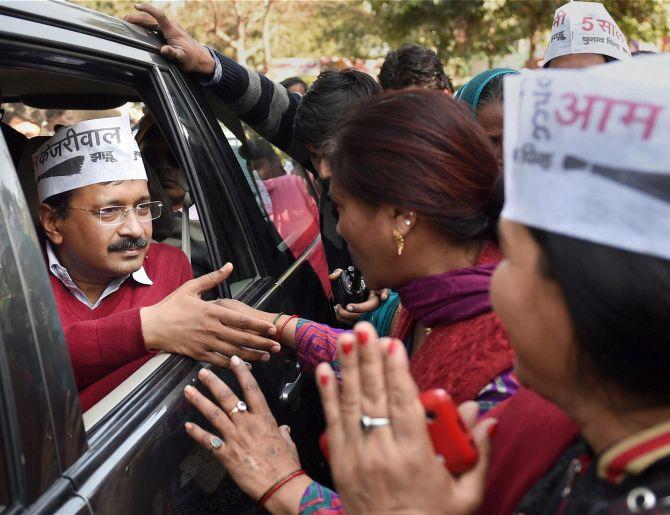 AAP's Arvind Kejriwal meets his supporters during the election campaign at South Avenue in New Delhi on Thursday. Photograph: Subhav Shukla/PTI
With two days to go for Delhi polls, Aam Aadmi Party chief Arvind Kejriwal on Thursday attacked the Bharatiya Janata Party saying it's their "religion" to attack others and like Duryodhana of Mahabharat the entire administrative apparatus was with it, while the nascent AAP had God (Sri Krishna) on its side.
Kejriwal started his campaign from Mandir Marg in New Delhi constituency and said he was getting amazing response. "Just amazing response. Unbelievable. Kuch adbhut hi ho raha hai. Its all divine," he wrote on Twitter.
The AAP chief, who will cover a total of 25 places in the constituency, also exuded hope of winning the elections saying the party was "following the path of truth".
"God is with us because we are following the path of truth. It's the BJP's 'dharam' to attack others," he said.
Earlier in a tweet, Kejriwal invoked Mahabharata to make a similar point. "In Mahabharata, Duryodhana had demanded soldiers from Shri Krishna. While Arjun had just asked for Shri Krishna's assistance. Today, the BJP has the entire administrative apparatus with it. We have God with us," he said.
Accompanied by hundreds of volunteers, Kejriwal went to slum areas and urged people to vote for the party.
Later, he also visited the local 'Andh Vidyalaya' (school for the visually challenged).
The AAP chief also interacted with sanitation workers at the Palika Dham area. Campaigning for Delhi polls ends on Thursday.

Also read

Kejriwal's principal publicity manager? The BJP itself!

'The idea of Kejriwal is not in conflict with that of Modi'