Delhi Chief Minister Arvind Kejriwal and Cabinet ministers Manish Sisodia, Gopal Rai, Jitendra Tomer, Satyendra Jain, Asim Ahmed Khan and Sandeep Kumar before the swearing-in ceremony at Ramlila Maidan in New Delhi on Saturday. Photograph: PTI Photo
Arvind Kejriwal took oath as Delhi chief minister on Saturday along with a team of six ministers with an average age of 37 years. This could possible be the country's youngest cabinet.
Kejriwal, 46, in a first, has decided not to keep any portfolio with himself.
Kejriwal's Man Friday, the 42-year-old Manish Sisodia is Delhi's first deputy chief minister. He will be given education, public works department and urban development. The Aam Aadmi Party plans to execute its educational agenda by building new schools and colleges, which is why it will be given to a senior minister like Sisodia.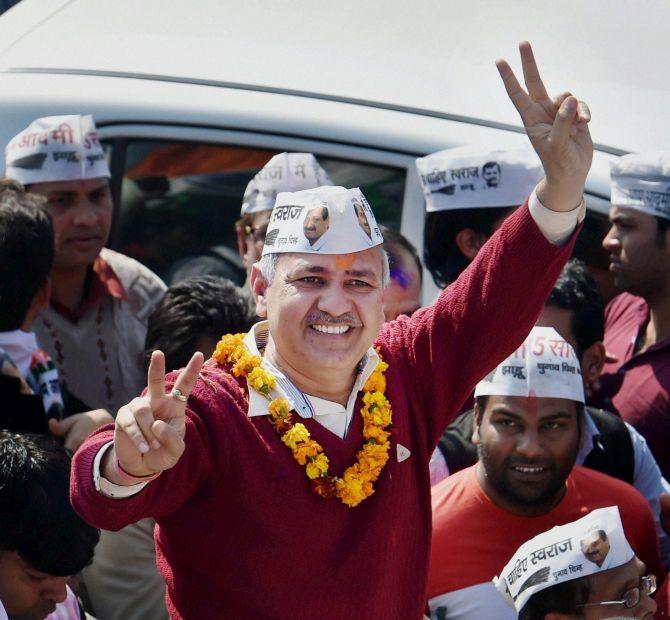 AAP leader Manish Sisodia celebrates with supporters during a victory rally after his win in the Delhi Assembly polls. Photograph: Atul Yadav/PTI
Apart from Sisodia, only Satyendra Jain, 50, was retained from the previous 49-day Kejriwal government. He will handle health as he did in the earlier AAP rule. In his previous stint as health minister, he was credited with ensuring free medicines in government-run hospitals

The home and law ministries will be handed over to 48-year-old Jitender Tomar. AAP's previous law minister, the controversial Somnath Bharti, has been kept out of the team.
Senior party leader and Political Affairs Committee member Gopal Rai, 39, is tipped to be the transport and labour minister. He has been a part of key decisions such as candidate selection for the just-concluded Delhi elections and the 2014 Lok Sabha polls. He has also helped strengthen AAP's base nationally.
Thirty-four-year-old Sandeep Kumar, a lawyer by profession, will handle the women and child welfare department.

Asim Ahmed Khan, 38, will be given the charge of food and civil supplies and minority affairs ministries.
Rai, Kumar, Tomar and Khan are first-time legislators. Later, The newly elected ministers of Arvind Kejriwal's cabinet were treated to home-cooked lunch by the chief minister himself at his office at the Delhi secretariat.
"After taking oath at Ramlila Ground, all new six ministers, including deputy Chief Minister Manish Sisodia, enjoyed home-made food in Arvind Kejriwal's cabin especially brought from his house," said one of ministers.
Kejriwal had a meeting with all his ministers in his office and thereafter, they were served food cooked at his house in Kaushambi.