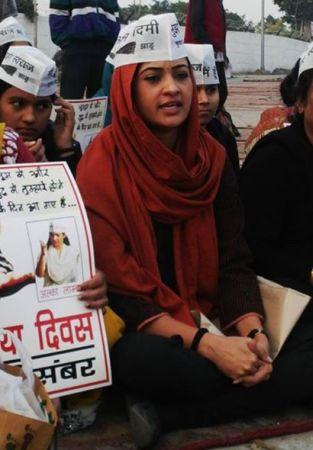 AAP's Alka Lamba is a graduate from Delhi University. Photograph: Alka Lamba/Facebook

Seventeen newly-elected lawmakers in the 70-member Delhi assembly including Aam Aadmi Party's Manish Sisodia and Rakhi Birla are post graduates while five have their education below matriculation level.
According to the affidavits filed with Election Commission, another five MLAs have mentioned their educational qualifications as 10+2 pass.
The number of graduates is 29 who include Chief Minister-designate Arvind Kejriwal, Alka Lamba, Som Dutt, Satyendra Jain, Rajesh Rishi, Ved Prakash, Asif Ahmed Khan and Imran Hussain.
The post-graduates also include AAP's Gopal Rai, Somnath Bharti and Bharatiya Janata Party's Vijender Gupta.
Hazari Lal Chauhan, who defeated former Union minister Krishna Tirath in Patel Nagar, studied till Std IX while Mohd Ishraque who won from Seelampur, only went to a primary school.
AAP MLAs Naresh Balyan, Raju Dhingan and Avatar Singh had studied till Std IX, according to their affidavits.
Mahender Yadav who won with the highest margin from Vikaspuri is a matriculate.
With similar educational credentials is Mustafabad MLA Jagdish Pradhan, one of three legislators from the BJP. Others in the category include Sahi Ram (Tughlaqabad), Manoj Kumar (Kondli), Sharad Kumar (Narela) and Mahinder Goyal (Rithala).
Fourteen of the legislators among those who emerged victorious on Tuesday had studied till Std XII.
While AAP leader Vishwesh Rai who defeated current North Delhi Mayor and BJP candidate Yogender Chandolia from Karol Bagh constituency, has enrolled for a graduate programme, rest 13 had listed clearing senior secondary examination as their highest qualification in the affidavits.
S K Bagga, who defeated BJP's chief ministerial nominee Kiran Bedi from party's traditional bastion Krishna Nagar, has a Masters in Commerce along with a Bachelors in Law.