"If there is one thing which AAP would like to wish away it would be the memories of the hasty resignation (of Arvind Kejriwal) in Delhi," says Ashustosh even as exit polls suggest that Delhi is all set to give the party a second chance.

Rediff.com contributor Upasana Pandey captures the mood in the capital on the eve of counting day.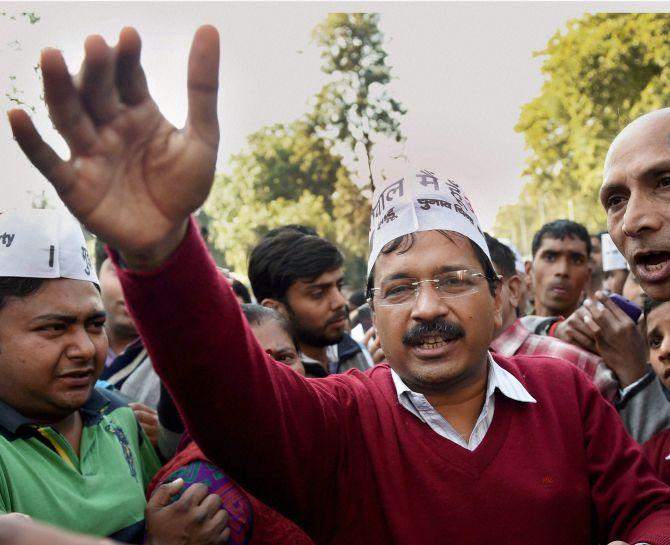 Exit polls show the Aam Aadmi Party to be the favourites in new Delhi. Photograph: Subhav Shukla/PTI
The exit polls have had their say and it is now to the real thing on Tuesday.

While exit polls show Aam Admi Party to be the favourites in New Delhi, the Bharatiya Janata Party is not ready to give up. But some of its leaders have started to look beyond the verdict.
On the eve of counting, AAP is confident of a win but is holding back celebrations till the results are announced. "We are not on cloud nine but the exit polls show that the AAP is very much in the game and set to form government. It is a moment of vindication for us," says party leader Ashutosh describing the mood in the party. "There is no question of taking support or joining hands with the Congress in case of any such scenario for government formation," he clarifies.
Meanwhile, the BJP cadre and its leaders insist on "wait and watch". Their hope is that the internal assessment by the party which suggests a win comes true. Shazia Ilmi, an AAP detractor and a new BJP entrant, says, "The results will be only half the story; the other important aspect is to see how (AAP chief) Arvind Kejriwal delivers on the many impossible promises made to the voters."
But in Kejriwal, AAP trusts.
Ashutosh reiterates, "The exit polls vindicate our position at a time when everybody had written the AAP off; it shows we are very much in the game."
He gives credit to "Arvind Kejriwal's tireless leadership and involvement in every aspect of the campaign, higher focus on strengthening the organisation and the refrain from a negative campaign, which could be the key factors for the possible victory."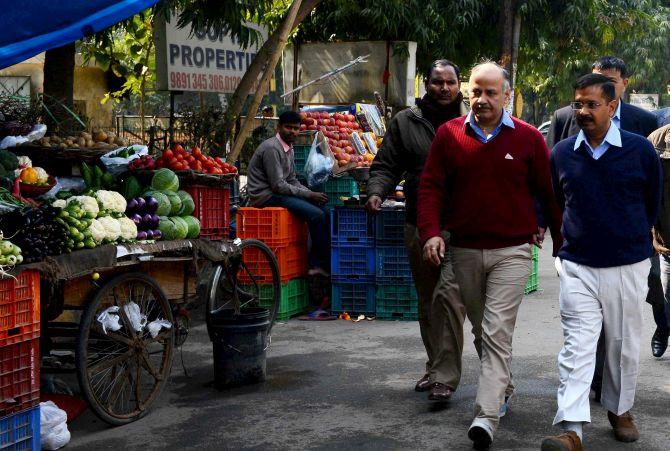 Kejriwal with party leader Manish Sisodia walks on street near his residence in Kaushambi on Sunday. Photograph: PTI

AAP held an informal meeting on Sunday afternoon before nearly 50 people, which was attended by its top leaders Kejriwal, Manish Sisodia, Kumar Vishwas and their families, as well as a core team of volunteers. They then watched the Akshay Kumar-starrer Baby at a theatre in Kaushambhi mall, near Kejriwal's house.
"We all love action and thrill so we decided to watch Baby together," says Ashutosh. He adds that voters had been convinced by them on the agenda of fighting core problems such as corruption, for which an institutional framework is required, which will be a priority for the party, if it comes to power. "We will earnestly work on the promises we have made on all the key areas, we are not in a hurry of any kind this time."
What has AAP learnt from the elections? "I think all the political parties need to learn from this election that negative agenda does not work with voters. AAP refrained from responding to a negative campaign by the BJP, which worked in our favour. The voters seem to be dejected with the BJP because of the party's inability to focus on anything positive."
"If there is one thing which AAP would like to wish away it would be the memories of the hasty resignation in Delhi," adds Ashutosh.
BJP's Ilmi admits that the exit polls didn't look too good but "this is only half the story". She dismisses the argument that the BJP lost ground with a negative campaign targeted at AAP and Kejriwal, in particular. "I think it was Kejriwal who was continuing on a negative note all through, describing Kiran Bedi as an opportunist."
She says BJP's CM choice Kiran Bedi cannot be held responsible for possible failure of the party to woo voters. She argues that "compared to Kejriwal who had a head start in politics and campaigning, Bedi had much less time to settle in".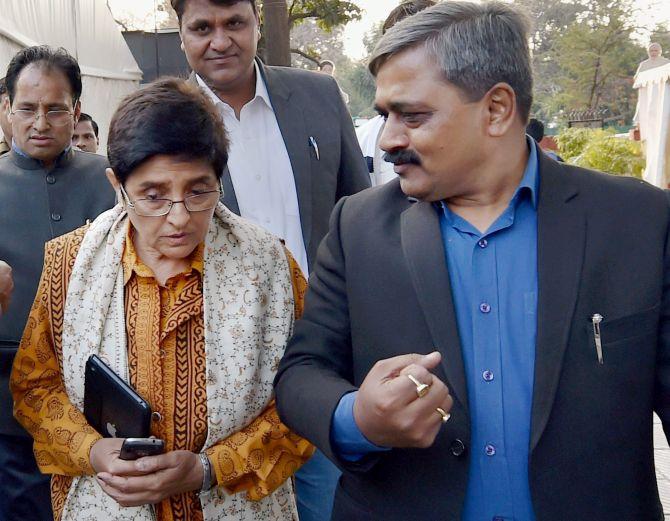 Delhi BJP President Satish Upadhyay with Delhi BJP CM candidate Kiran Bedi ahead of a review meeting in New Delhi on Sunday. Photograph: Kamal Singh/PTI
Bedi "has the advantage of not being a politician per se but having a strong and clean administrative track record. Unlike Kejriwal who doesn't live in Delhi, Bedi is a Delhi resident," she insists.
Ilmi goes out to point to "many impossible promises such as setting up of 500 schools, free Wi-Fi, free water, setting of 15 lakh CCTVs across the city and slashing of electricity bills by half, offered by the AAP, which seems to have swayed the voters."
"It will be interesting to see how Kejriwal delivers on these," she says.
Will Ilmi focus now on Kejriwal as a CM, as she vowed to expose him in her speech the day she joined the BJP? "I will be watching the Delhi government but I am also focusing also on several other key projects such as gender protocol and sanitation, working on smart city plan, among others. This is the reason I did not contest the elections."
And there is Congress in the fray too.
Yoganand Shastri, veteran Congress leader who has contested from Malviya Nagar, is optimistic. He says that exit polls have been misleading in elections in states like Jammu and Kashmir as well as Jharkhand. "We are hopeful that the Congress should manage around 15 to 20 seats."
Reacting to media reports where senior Congress leader P C Chacko blamed lack of organisational structure and confused leadership for the possible dismal performance of Congress, Shashtri said, "I don't want to comment on this. But there is definitely a need for strengthening the organisation."

Also read:

'These are great times for women to work with the BJP'

'Delhi election won't be a cakewalk for any party'

Kejriwal's principal publicity manager? The BJP itself!