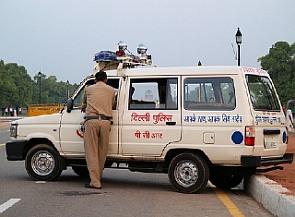 Three Delhi policemen have been attached to district lines after it was found that they allegedly let off a suspected Bhindranwale Tigers Force terrorist after allegedly taking money from him.
The action came after the revelation by a suspected terrorist and member of Bhindranwale Tiger Force, Avtar Singh, who was allegedly involved in the recent Rs 1 crore heist in Karol Bagh, sources said.
Singh, who was arrested by the central district's police on Friday, told his interrogators that he was nabbed by the Special Investigation Team of Delhi police's Crime Branch last week.
But he was let off after he paid Rs 5 lakh to a sub-inspector of SIT from the booty, sources said.
Following the "explosive" revelations which left the police red-faced, three policemen, identified as Inspector Rajbir Singh, SI Ramesh and Constable Parvez Alam have been sent to district lines and a department enquiry has been initiated against them.
If the allegations are found true, they may face strict disciplinary as well as legal action.
According to sources, it was Constable Parvez Alam, who had received a tip-off about the gang after which the arrest was worked out by the Crime Branch.
Police has also learnt from Jugal, who was also arrested in this case that he had handed over the robbed booty to one Assistant Commissioner of Police on the assurance that he will be saved.
The robbed material was then recovered by the Central district police after his arrest.
Role of the ACP was also being probed in this connection.
Although top police officials refrained to comment over the issue, a senior police officer of the Crime Branch refuted the allegations and claimed that around nine persons were apprehended by SIT but only five of them were found involved in the crime after which others were allowed to go.
Initially, six people, including a receiver were arrested by the Crime Branch while Avtar Singh and his three associates where arrested later by the Central Delhi police in this connection.
The incident took place at around 8:45 pm on May 15 in the congested area of Desh Bandhu Gupta Road when two Mumbai-based diamond merchants travelling in a car were intercepted near Liberty Cinema by bike-borne assailants.
Two of the miscreants got down from the motorcycles and one of them broke the window shield of the vehicle.
After assaulting the occupants of the car, they took away the bag containing jewellery and cash at gun point before fleeing from the scene.