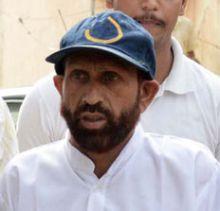 The All India Muslim Majlis-e Mushawarat, the umbrella body of Indian Muslim organisations, has said that Delhi Police Special Cell's claims about former Kashmiri militant Liyaqat Ali Shah are false.

In a statement on Tuesday, the AIMMM said that Shah was stopped and interrogated by the Seema Suraksha Bal at the India-Nepal border and later handed over to security agencies from Delhi.

This demolishes the Special Cell's claim that he was arrested by them, they said.

The AIMMM charged that the Special Cell's claim that it had received a 'tip off' on Liyaqat was an obvious lie.

These claims have since been highly-discredited by the forceful assertion with evidence by the Jammu and Kashmir Police and the Omar Abdullah government that Liyaqat was coming to Kashmir under a government
plan to rehabilitate former militants.
'While the Special Cell spoiled and put in danger a very important government scheme to end militancy in Kashmir, it has, as usual, told plain lies to sex up its story. There is no proof that the Special Cell had any tip off about the said person, otherwise it must have shared the same with other agencies, especially with the BSF manning the Indo-Nepal border from where the alleged "terrorist" was going to come.'
'It is our contention that the Special Cell, as usual, has faked a story to earn false laurels, medals, monetary rewards and out-of-turn promotions as has been the case in umpteen cases where this force has been found faking terror cases and implicating innocents, killing people in fake encounters, torturing to obtain fake confessions, as well as running extortion rackets,' the organisation alleged.