The Delhi Police on Friday registered an FIR against Shiv Sena MP Ravindra Gaikwad for assaulting an Air India staffer and transferred the case to its Crime Branch.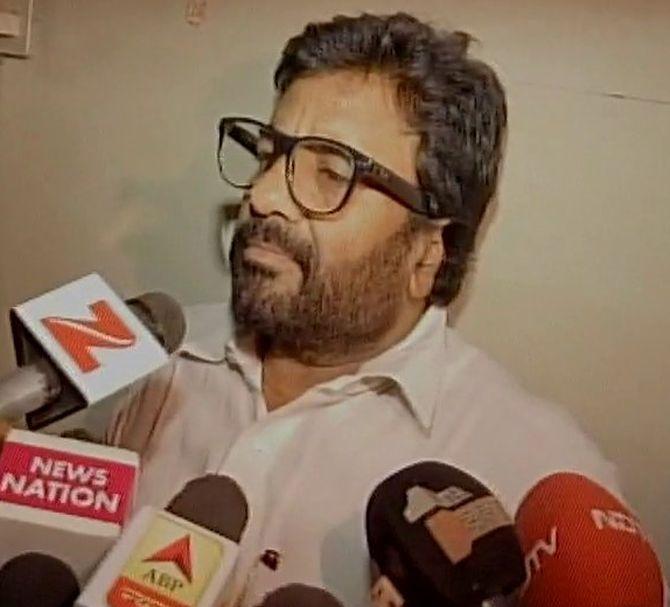 Gaikwad has been charged with attempt to commit culpable homicide and using criminal force with intent to dishonour person, said Dependra Pathak, Delhi Police's chief spokesperson and special commissioner(operations).
Gaikwad, on his part, also filed a complaint to DCP (Airport) Sanjay Bhatia alleging misbehaviour by Air India officials.
Pathak said that Gaikwad's complaint has been sent for legal examination.
"We had received two complaints -- one from Air India and the other from the victim respectively. They were sent for legal opinion and following that, we have registered an FIR.
For a detailed and thorough probe, we have transferred the case to Crime Branch," said Pathak.
The MP who was barred from taking flights from at least four domestic airlines took a train to travel to Mumbai.
He boarded August Kranti Express for Mumbai from Hazrat Nizamuddin station, said a senior Railway Ministry official.
The Sena MP has booked three berths -- 21, 22 and 23 -- in coach number A-1 of AC II tier of Mumbai Rajdhani. He is accompanied by a person, said the official.
He said the MP's companion was unwell and attended by a doctor at Mathura station. The train is expected to reach Mumbai around 10 am.
Gaikwad, the Lok Sabha MP from Osmanabad in Maharashtra, hit 60-year-old duty manager R Sukumar "25 times" with his sandal when the official persuaded him to disembark after the plane landed at the IGI airport in new Delhi from Pune.
The MP refused to alight, holding up the aircraft for over 40 minutes on Thursday.
The Delhi Police had said that they were seeking legal opinion on the matter and the FIR was lodged on Friday after obtaining the same.
The Crime Branch will soon question the Air India staff members to gain more insight into the sequence of events, sources said.
They said the victim will also be spoken to following which the MP will be asked to join the probe.