A Delhi Police team on Sunday met Congress leader Rahul Gandhi at his residence as part of an inquiry initiated in the wake of his remark that "women are still being sexually assaulted' made during the Bharat Jodo Yatra and asked him to provide information about the "victims" to take up their complaints, officials said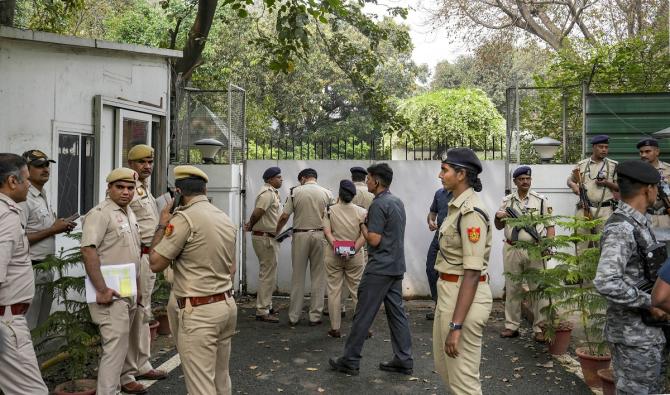 An angry Congress condemned the Delhi Police action and attacked the central government, calling it the "worst case of harassment and political vendetta", but the Bharatiya Janata Party rejected the charge and said the police was "only discharging its lawful duty".
The police team headed by special commissioner of police (law and order) Sagar Preet Hooda arrived at Gandhi's 12, Tughlaq Lane residence in the high security area at around 10 am and was able to meet the Congress leader after two hours, officials said, adding it left at around 1 pm.
Security had been stepped up around Gandhi's residence. Congress leaders Pawan Khera, Abhishek Manu Singhvi, Jairam Ramesh and others arrived there while the police team was inside.
A group of party workers protested outside and raised slogans. Four-five Congress workers were detained, taken to a nearby police station and later released, an official said.
According to the police, Gandhi stated in Srinagar during the Bharat Jodo Yatra that ''I have heard that women are still being sexually assaulted'', and since the Yatra had passed through Delhi also, they wanted to ascertain if any victim had approached the Congress leader here so that they can initiate a probe into the matter.
"The police had asked him to give details of these victims so that security could be provided to them," an official said.
Terming it a serious matter, Special Commissioner of Police Hooda said after Gandhi made his remark, they conducted a local inquiry to collect details if any woman had approached Gandhi during the Yatra's Delhi leg about their ordeal.
"But no such incident came to the notice of our officials also nor did we find any victim," the officer said.
Hooda said that after he failed to collect any information in this regard, they decided to approach the Congress leader himself and accordingly, a notice with a questionnaire was also sent to him seeking details of victims who approached him about sexual harassment.
"We tried to contact him (Gandhi) but he was abroad then. So, today, I, along with my team, went to his residence and communicated to his staff about the same," he said.
The officer said he met Gandhi and urged him to provide details.
This was the third time that Gandhi was approached in this regard, police said, adding they want to initiate a probe into the matter as soon as they get details about the victims.
"After we get details, we want to ensure that legal action is taken in the matter at the earliest and there should be no loss of evidence and no victim should be further victimised or abused," he added.
The development comes amid allegations by the Congress and other opposition parties that the central government was misusing its agencies to target political rivals.
Addressing a joint press conference at the AICC headquarters in New Delhi, Rajasthan Chief Minister Ashok Gehlot, party general secretary Jairam Ramesh and national spokesperson Abhishek Singhvi said the move was a clear case of "vendetta, intimidation and harassment" to create an atmosphere against the former Congress chief.
Gehlot warned that the central dispensation was setting a bad example by registering cases on statements of opposition leaders made during political campaigns, adding that the BJP leaders, including Union ministers, could face similar action over remarks made in states not ruled by it.
The BJP, however, said Gandhi should provide the information sought by the police so that the victims can get justice.
Party spokesperson Sambit Patra said police should have information about incidents claimed by Gandhi and that is why the Delhi police followed the legal procedure to meet the Congress leader for details.
He took a swipe at the Congress, saying the party is now crying that "democracy is in danger" over the lawful action by the police.
"During BJY, Rahul Gandhi had claimed that he met women, who told him that they were raped and molested, but didn't get justice. Delhi police has been asking for details but Rahul wouldn't tell.
"Assuming he didn't lie then, it shows his feeble commitment towards ensuring justice," Amit Malviya, in-charge of BJP's national information and technology department, tweeted.