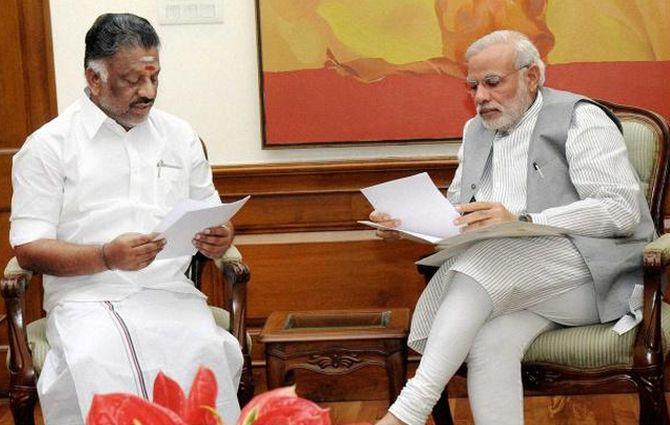 IMAGE: Tamil Nadu Chief Minister O Panneerselvam with Prime Minister Narendra Modi on Monday, December 19, 2016.
'When you enter our secretariat, you are insulting us.'
'It is the seat of government of the state of Tamil Nadu,' AIADMK spokesman Dheeran tells A Ganesh Nadar/Rediff.com
Income tax raids on premises belonging to Rama Mohana Rao, the now replaced Tamil Nadu chief secretary, and his son in Chennai, during which cash in new currency worth Rs 30 lakh and 5 kg gold were seized, has given rise to a political slugfest.
Though as a party they weren't against the raids, All India Anna Dravida Munnetra Kazhagam spokesman Dheeran tells Rediff.com AIADMK leaders are upset that no information about the raids was provided to them.
"We are not opposing raids by the CBI (Central Bureau of Investigation) or the Income Tax department or any other governmental agency," Dheeran says. "What we are opposing is entering our secretariat without informing us."
"I am not telling you to ask permission, I am telling you that you must inform us. It is against the principle of federalism and democracy," Dheeran adds.
"You go raid his (Rama Mohana Rao's) house, his farm and his friends' homes, we don't care. But when you enter our secretariat, you are insulting us," says the AIADMK leader. "It is the seat of government of the state of Tamil Nadu."
"This is happening because we are against right-wing politics," he adds. "Even Mamata Banerjee, the chief minister of West Bengal, has said that it is an assault on the rights of the state. How can you enter a state headquarters like this?"
Dheeran also attacks the Reserve Bank of India, saying, "A man can't withdraw Rs 2,000 from the bank, yet people are getting caught across the country with new currency. From where are they getting the new currency? Who is the RBI favouring? Is it working under the finance minister or the prime minister?"
"They are infringing on the rights of the state. They think they can intimidate our 50 MPs to vote in favour of the government. That will never happen," Dheeran declares.
"Amma (the late chief minister J Jayalalithaa) has trained us well. We will fight for our rights and the rights of the Tamil people," the AIADMK leaders says.
"Our rights are being threatened," he points out. "Let them (the Centre) know that Delhi is not a sultanate and we are not small kings who will line up to pay tribute."
"This is a Republic and federalism means the state is equal to the Centre and it is not subordinate. We asked for relief after cyclone Vardah, because they are collecting thousands of crores of taxes in Tamil Nadu. You are not doing us a favour," Dheeran adds.
"We will not be cowed because Amma is not here. We will follow her footsteps and protect Tamil Nadu from the Centre and its wrong policies."