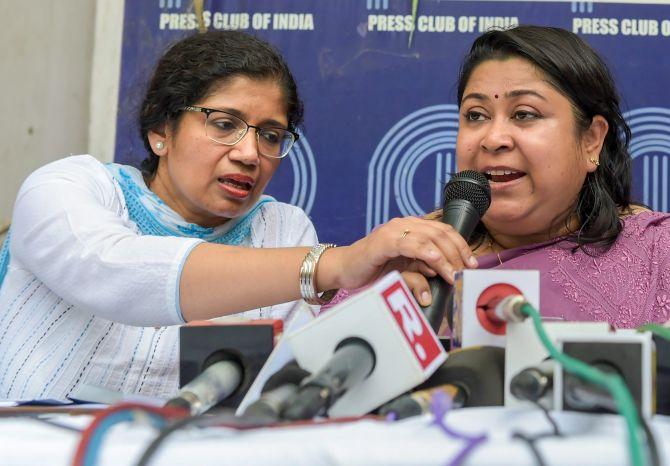 As Delhi Chief Minister Arvind Kejriwal's sit-in at the lieutenant governor's office entered the 8th day, the Delhi government and its IAS officers on Monday showed signs of a thaw with both sides expressing their readiness for talks to end the impasse.
The development came on a day the Delhi high court virtually disapproved of the sit-in led by Kejriwal and asked the Aam Aadmi Party government who had authorised such a protest even as deputy chief minister Manish Sisodia, who was on a hunger strike since June 13 at the LG's office, was taken to hospital after his health deteriorated.
Later in the day, Sisodia wrote LG Anil Baijal requesting him to call a meeting between AAP ministers and the bureaucrats to resolve the issue.
The chief minister had assured the officers on Sunday that he would ensure their safety and security.
The officers on Monday welcomed Kejriwal's assurance about their safety, saying they are open to formal discussions with the chief minister on the matter.
After Sisodia's letter, Kejriwal tweeted, "I hope LG calls a meeting soonest to resolve this issue. (sic)."
The AAP said that the chief minister's assurance was a "good step forward", adding now it was the "responsibility" of the Centre and bureaucrats' fraternity to reciprocate.
The officers said that they looked forward to "concrete interventions" for their security and dignity, a move that may break the four-month-long impasse between the AAP dispensation and the bureaucrats following an alleged assault on Chief Secretary Anshu Prakash by some ruling party MLAs at the chief minister's residence in February.
The association of officers of the AGMUT (Arunachal Pradesh, Goa, Mizoram and Union territories) cadre said that they continue to be at work with "full dedication" and "vigour", rebutting the AAP charge that they were on strike.
Sisodia, in his letter to Baijal, said, "As the matter of security and services come under you, we want this meeting to be held under your chairmanship so that whatever assurance we will have to give, will give, and also, whatever comes under you, you give."
He also said, "I hope that you will call all stakeholders at the earliest and find a solution to this (impasse)."
Kejriwal, along with his colleagues, have been holding a protest at LG's office demanding a direction to the officers to end their"strike" and approval of the doorstep ration delivery scheme.
Amid the tug of war, Kejriwal called up Shiv Sena chief Uddhav Thackeray and apprised him about the situation in the national capital.
Media advisor to Thackeray, Harshal Pradhan, said Kejriwal called Thackeray yesterday. "Uddhav ji feels that the duly-elected government by people of Delhi should be allowed to function sans any hindrance in its working," he said.
"This, however, does not amount to the Shiv Sena, a key NDA constituent, supporting Kejriwal and the AAP," Pradhan said, dismissing media reports in this connection.
Meanwhile, Congress chief Rahul Gandhi accused Prime Minister Narendra Modi of turning a blind eye to the "anarchy" in Delhi and aiding "chaos and disorder" in the national capital, where Kejriwal as well as the BJP are staging competing sit-ins.
"Delhi CM, sitting in dharna at LG office. BJP sitting in dharna at CM residence. Delhi bureaucrats addressing press conferences.
"PM turns a blind eye to the anarchy; rather nudges chaos and disorder. People of Delhi are the victims, as this drama plays out," Gandhi said on Twitter.
Late on Sunday night, Health Minister Satyendar Jain, who on an indefinite fast, was hospitalised after his condition had deteriorated. He was taken to the LNJP Hospital where his condition is stable, doctors said today.
A day after chief ministers of four non-BJP ruled states -- West Bengal, Andhra Pradesh, Karnataka and Kerala -- urged Modi to resolve the issue, the AAP got support from another political party -- the Samajwadi Party.
Senior SP leader Ram Gopal Yadav, who met Sisodia and Jain at the hospital, said that if need be, "we will also sit on dharna".
With AAP workers holding a protest march on Sunday in the heart of Delhi in support of the sit-in, party leader Sanjay Singh on Monday said it was a message that the people of Delhi will not stay quiet if they are "made to suffer".
"Now, it is the responsibility of the Centre, the lieutenant governor and the IAS association to take two steps forward from their sides in favour of people of Delhi and end the strike," he told reporters.
An end of the "strike" by IAS officers would ensure that pending work such as CCTV installation, air pollution control, education and mid-day meal scheme are completed, Singh said.