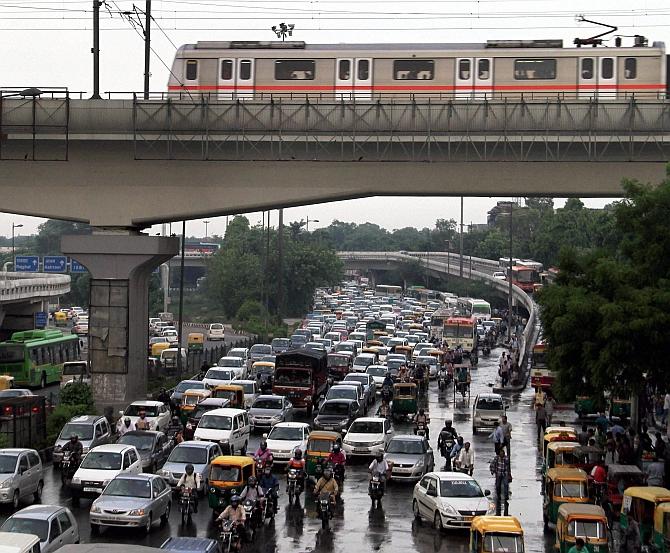 Both the odd and even-numbered cars will be allowed to ply on Sundays, the Aam Aadmi Party government on Monday announced adding that it is the "responsibility" of the Delhi police to implement the formula to curb air pollution in the national capital.
Delhi Home Minister Satyendra Jain said that government has started a series of meetings to roll out strategy on the issue and DMRC will also be asked to increase its working hours to accommodate a huge crowd of passengers.
As per Chief Minister Arvind Kejriwal's plan, odd-numbered cars will be allowed to ply on Monday, Wednesday and Friday while even-numbered vehicles will run on the other days -- Tuesday, Thursday and Saturday.
The government will only allow emergency vehicles such as PCR van, fire tenders, ambulances on the roads of the national capital.
"We will allow odd and even numbered vehicles on Sunday as there is no heavy traffic on the capital's roads on that day. We have enough time to make a strategy on the implementation of odd and even formula," Jain, who is also Health and PWD Minister, said.
Asked about the Delhi police not being informed before introducing even and odd formula, Jain said, "The police is a part of government and they (police) are not the government. It is their responsibility (Delhi police) to implement the law enacted by the government."
The minister said that Delhi Transport Corporation and Cluster have been asked to increase the frequency of their buses by 20 per cent.
"Besides, Metro will also be asked to increase their working hours so that people don't have to face problem while using public transport. If we increase public transport by 20 per cent, there will be no problem for people," he also said.
Chief Minister Arvind Kejriwal on said that the government would discontinue the move after 10 to 15 days if people faced problems. On December 4, the AAP government had come out with a plan of restricting private vehicles bearing odd and even registration numbers to alternate days from January 1 in the national capital.
Meanwhile, the Delhi government's decision to allow odd-even number cars to ply on alternative days from next month came in for sharp criticism on Monday from Opposition in Rajya Sabha, which dubbed it as "impractical and weird" and called for its reconsideration.
Raising the issue during Zero hour in Upper House, Pramod Tiwari (Congress) said it is an "arbitratory" and "impractical" decision that would cause major inconvenience to people in Delhi which does not have a robust public transportation.
"This is a serious issue. We don't want to see a law and order situation and the government of India should issue an advisory on this," he said, adding that other countries implemented such an idea after developing public transport.
He sought to know how this kind of idea can be implemented when the state has not improved basic public infrastructure.
Echoing his views, Karan Singh (Congress) said, "It is very weird and unusual suggestion. Something has to be done. This suggestion should be reconsidered and other alternatives should be thought about to address pollution."
To this, Minister of State for Parliamentary Affairs Mukhtar Abbas Naqvi said, "It relates to the decision of the Delhi government. We have to address pollution. In theory, we accept it, but the suggestion is impractical."
However, Jayaram Ramesh (Congress) disassociated with his party colleague on the issue saying air pollution was a serious issue. There is "no harm in trying for some days" the idea of allowing odd-even car numbers to ply on alternative days.
© Copyright 2021 PTI. All rights reserved. Republication or redistribution of PTI content, including by framing or similar means, is expressly prohibited without the prior written consent.