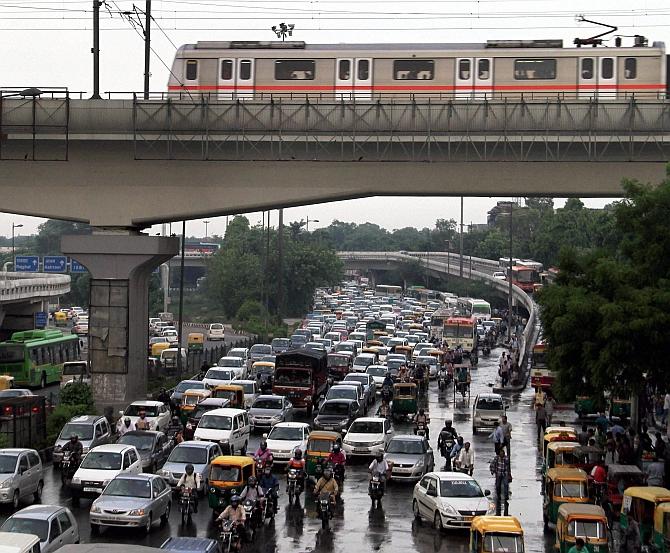 The Delhi government is all set to roll out its ambitious odd-even scheme on Friday, as final touches are being given to preparations ahead of its first such road-rationing experiment.
Delhi transport minister Gopal Rai on Thursday appealed to Delhiites to make the scheme a success as the move will clear the city's polluted air for children, and said despite the alleged 'conspiracy' by the Bharatiya Janata Party, the plan will be a success.
Besides pressing into service 3,000 additional buses, the government has issued two helplines -- 011-42400400 and 011-41400400 -- for people to register their complaints and suggestion in connection with the scheme.
As many as 200 teams of the Delhi traffic police, 66 enforcement teams of transport department and 40 teams of sub-divisional magistrates will be deployed on Friday to ensure strict implementation of the scheme.
As per the traffic restriction plan, odd-numbered cars will be allowed to run on odd dates while even-numbered vehicles can only ply on even dates.
Motorists will have to cough up Rs 2,000 for violating odd-even rules. Delhi police commissioner B S Bassi appreciated the Arvind Kejriwal government's ambitious plan and assured '100 per cent commitment' in its strict implementation.
"200 teams of civil defence volunteers will be deployed at 200 locations. 45 teams of the Delhi Transport Corporation, 29 teams of Delhi Metro Rail Corporation, 15 teams of Delhi Integrated Multi-Modal Transit System have been formed to ensure adequate arrangements for providing better public transport service," Rai said.
"Volunteers will not stop any moving vehicle, instead they would only offer a rose to the violators at traffic intersections," he said.
He also said that apart from the DTC's 4,600 buses and 1,400 cluster buses (orange line), the corporation will run 3,000 additional private buses, including 1,800 school buses, to accommodate extra rush of commuters during the 15-day-long scheme.
Delhi Metro will also increase frequency of its services.