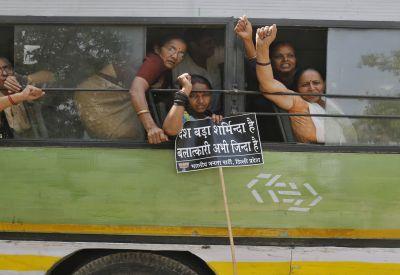 The father of the 5-year-old girl, who was raped and assaulted by her neighbour, had made a call to Delhi government's helpline after police did not respond to their complaint, following which Chief Minister Sheila Dikshit's office took up the issue with senior police officials.
Top officials in the chief minister's office said the father of the victim called up helpline no 181 seeking the government's intervention in asking police to take up the case seriously.
"The father of the girl called up the 181 complaining that police were not taking up the matter seriously. Accordingly, we communicated to police about the complaint and asked them to investigate the matter," they said.
The girl had gone missing on April 15 and was found on April 17 from her neighbour's room in Gandhinagar area of East Delhi.
Following the call from the girl's father, Delhi government officials got in touch with officials of Gandhi Nagar police station seeking speedy investigation into the matter.
But when the father again called up 181 on April 18 saying police were not taking the matter seriously, Delhi government officials communicated the matter to Special Commissioner in charge of women's complaint cell Sudhir Kumar.
Government sources said the chief minister is seized of the matter and a report on the matter may be sent to the Union home ministry.
The 181 helpline for women in distress was set up by Delhi government in the wake of the public outcry triggered by the brutal gang-rape of a 23-year-old girl in a moving bus in the city in December last year.
Photograph: Protestors shout slogans after they were detained during an anti-rape demonstration in New Delhi
Image: Adnan Abidi/Reuters
© Copyright 2020 PTI. All rights reserved. Republication or redistribution of PTI content, including by framing or similar means, is expressly prohibited without the prior written consent.