A few patients are not satisfied with the compensation the government is offering them, and they believe the government should come up with a long-term plan to rehabilitate. Priyanka reports.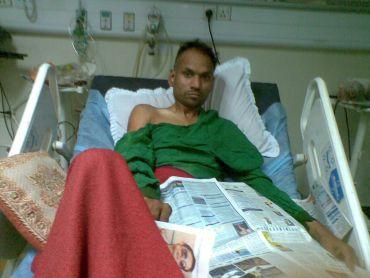 In his early 40s, Harish Kumar is a tenacious Right to Information activist having filed more than 1,700 applications in the past five years, mainly with the city's Municipal Corporation Department and the Delhi police. He is also one of those seriously injured in the recent Delhi high court bomb blast.
Kumar has lost his left leg and is nursing a fracture in the right leg, with serious shrapnel injuries on the lower back and shoulders.
Kumar had gone to the high court on September 7 to file a public interest litigation. He tries hard to recollect, but remembers only vaguely what happened that morning. "All I could make out was that something grave had happened," he says. "But I was not sure what it was. My friend who was with me found me buried beneath four bodies, he pulled me out and rushed me to hospital."
He has been undergoing treatment at the Ram Manohar Lohia hospital for over two weeks, and has already been operated upon twice. His left leg below knee had to be amputated, and the deep wounds on the lower back have made lying on the back difficult. The left side of his face bears signs of recent shrapnel injuries, and yet, he does not want to complain and be depressed about what he went through.
Kumar, however, is worried that he is unable to work on his RTI applications and follow up on appeals of the applications as long as he is admitted in the hospital. His courage is almost hard to comprehend.
"In the last two weeks since I have been admitted here, there must already be some 200 pending letters on RTI," he says to his wife Santosh, who stands besides him, nodding in confirmation. "As soon as I am discharged, I will start working on my RTI applications," he says, almost reassuring himself.
Does he not feel the grief and depression that victims who have undergone traumatic experience feel vulnerable to? Is he not sad about losing a leg and will now have to depend on an artificial limb for the rest of his life? But Harish answers calmly, "This is all God's will. He has also saved my life. If this is the price I had to pay, then so be it, but it will not deter me from filing more RTI applications and making my contribution."
Harish is often visited by his two school going children and is expected to take at least a month to recuperate fully.
However, it is not possible to dismiss for long the grim realities of what victims of bomb blasts have to undergo, and how such events change their lives forever.
37-year-old Nitin Mandlaus is a successful software consultant; his business is mostly based in Canada and the US. He had gone to the high court on the day of the blast with his lawyer for hearing in a personal matter.
He was standing in a queue to get entry tickets when the bomb went off. Now confined to bed number 17 on the fourth floor at the Ram Manohar Lohia hospital's trauma center, he has been operated upon twice and says he can barely hear in both his ears and still has 'thousands of tiny and minuscule foreign metal pieces in his arms, legs and shoulders.'
"The doctors are now telling me it is not possible to remove all the tiny metal pieces in my body. All my work is on laptop and through mobile phones, but now I cannot hear properly in both my ears. I am required to travel abroad extensively as a part of work, but now with all these metal parts in my bodies, how will I travel freely in international airports," he asks. "The government should give me a letter explaining how I got these metal pieces in my bodies, for no fault of mine."
He was offered a compensation of Rs 10,000, which he refused to accept. "I think the compensation government was giving me was stupid and ridiculous. I have been undergoing treatment for over two weeks now, how can they say my injuries are minor," he asks. 
While RTI activist Harish Kumar and the others recuperating at the Ram Manohar Lohia hospital were offered a compensation of Rs 1 lakh each from the prime minister's relief fund and Delhi Chief Minister Sheila Dikshit, two patients had refused to accept the compensation of Rs 10,000 for their injuries. The second victim who refused to accept a compensation of Rs 10,000 is 45-year-old Kishan Kumar Gupta. A resident of east Uttam Nagar, he had sustained deep shrapnel injuries on both his legs and had to undergone two operations, before being discharged on Wednesday.
"I am confined to bed rest and have been asked to come back to the hospital for removal of stitches in my right leg," he says, aghast at the compensation offered to him. "I have spent much more already and saw no point in taking an obligation from the government; my injuries are serious."
A few patients are not satisfied with the compensation the government is offering them, and they believe the government should come up with a long-term plan to rehabilitate.
Nitin Mandlaus says that it will easily take six months to a year for him to recover fully and he is now not sure if he will be able to work as efficiently as he used to before the bomb blasts. "The government cannot wash its hands off by giving a meager compensation; it is ridiculous. They should rehabilitate us. I don't even know if I can go back to my job again, I feel I should be offered a permanent government job," he says.
Photograph: RTI activist Harish Kumar, who was badly injured in the Delhi high court blast.