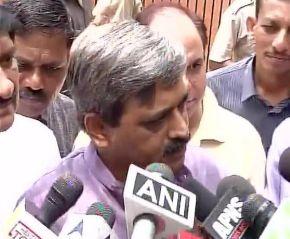 Amid uncertainty over government formation in the city, Delhi Bharatiya Janata Party president Satish Upadhyay on Sunday said his party is "fully ready" to face fresh elections though many party MLAs are reluctant to go to polls again.
At the same time, he said the party will explore taking a shot at power and talk about the numbers once invited by the Lt Governor. After an hour-long meeting with senior leader and Home Minister Rajnath Singh, Upadhyay said BJP was confident of getting a "clear majority" if elections are held afresh in the national capital.
In the meeting, Upadhyay briefed Singh about party MLAs reluctance to go to polls again and conveyed to him that getting the required numbers to form a government will not be a major challenge.
"If tomorrow elections are announced, we are ready to face it. We are extremely confident of getting a clear majority and handing out crushing defeat to both Congress and the Aam Aadmi Party. The party does not have any issue in facing the electorate again," Upadhyay said.
BJP sources said there was no consensus in the party on whether it should form a government or not and a final decision on the issue has been left to Prime Minister Narendra Modi.
They said a number of Central leaders as well as Rashtriya Swayamsevak Sangh were not in favour of forming a government by "managing the numbers" and indicated to the state leadership to get ready for elections.
About the possibility of BJP opting for forming the government, Upadhyay said the party will decide on the issue if it is invited to do so by Lt Governor Najeeb Jung. "So far, we have not got any invite from the Lt Governor. If he invites us to form a government, then we will decide accordingly."
Asked how BJP will manage the numbers as it will require the support of five more MLAs to prove majority in the assembly, he only said the party will respond to the question if it gets an invite to government formation.
Image: Delhi BJP chief Satish Upadhyay speaks to reporters after his hour-long meeting with Rajnath Singh. Photograph: ANI/Twitter