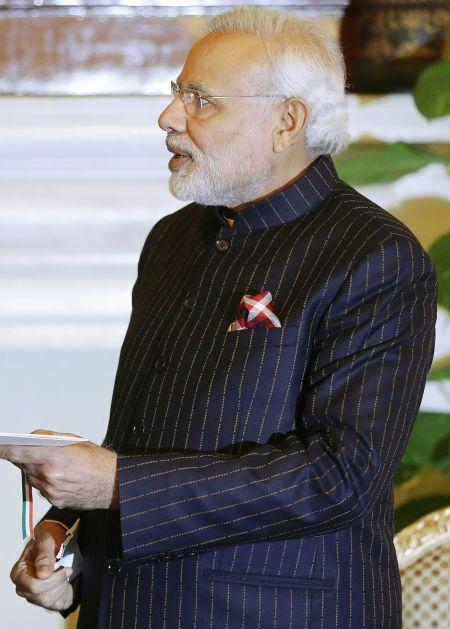 Image: The suit worn by PM Narendra Modi during summit talks with US President Barack Obama fetched Rs 4.31 crore in an auction.

The Shiv Sena came to the defence of Prime Minister Narendra Modi on the auction of his pinstripe monogrammed suit and said the two-piece ensemble was valued highly because of the person who wore it.
"Instead of criticising, the Congress can auction the wardrobe and footwear of Rahul Gandhi and see what amount they fetch. Similarly, Arvind Kejriwal can auction his muffler while Lalu Prasad and Mulayam Singh Yadav can call for bidding of their belongings...The suit which fetched over Rs 4.31 crore is because of the person who wore it," an edit in party mouthpiece Saamana, said on Saturday.
"Modi plans to utilise the money for Ganga River cleaning and girls' education. Modi wore the suit only once and builders, industrialists, diamond merchants made a beeline to buy it. Modi wears new clothes every day, if some of them are auctioned, black money from within India will come out and the assurance of unearthing of black money would be fulfilled," it said.
About 455 items received as gifts including a T-shirt from Australian cricketer Bret Lee are under the hammer but according to reports they are not getting good response, the editorial noted.
"Modi's clothes are simple but of high quality. The country's PM should dress properly and there should be aura to his personality," it added.
On Friday, the navy blue suit with Modi's name in full -- Narendra Damodardas Modi -- embroidered on the fabric to look like golden stripes which he had worn for summit talks with United States President Barack Obama in New Delhi on January 25 went to a diamond trader from Surat Lalji Patel and his son after an intense bidding on the closing day of the three-day auction.
The suit, said to be worth Rs 10 lakh, had kicked up a political storm with the Opposition, particularly the Congress, which took on Modi during the campaign for Delhi assembly polls, saying that wearing such an expensive garment showed how alienated the PM is from the poor of this country.
The party had also called the auction a "damage control" and demanded that the exercise be stopped and the suit deposited with the 'Toshakhana' (treasury).
Modi had also been slammed by another party leader Jairam Ramesh, who called the PM a "megalomaniac".
It was tailored by 'Jade Blue' in Ahmedabad, a clothing chain that handles Modi's wardrobe.
© Copyright 2021 PTI. All rights reserved. Republication or redistribution of PTI content, including by framing or similar means, is expressly prohibited without the prior written consent.