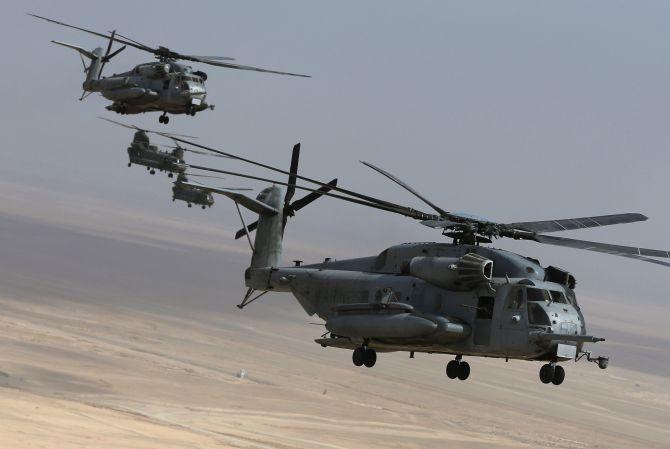 As India and the US hold fresh talks on three contentious defence foundational agreements, a top American military official on Wednesday batted for the pacts, saying these are an opportunity for deeper collaboration and cooperation in the key sector.
"I think there is a shared understanding that these agreements have value. They provide structure for exchange. I think they provide opportunity for enhanced cooperation," said the Chief of Naval Operations of the US military, Admiral John Richardson.
Interacting with a select group of journalists here, the officer said there is a shared understanding to put in place these agreements.
"There is a very dedicated effort to put everything into place. So, we are optimistic about closing some of these arrangements," he added.
The American side had raised the issue of signing of the Communications and Information Security Memorandum of Agreement, Logistics Support Agreement and Basic Exchange and Cooperation Agreement during the recent visit of Defence Minister Manohar Parrikar to the US.
While the previous United Progressive Alliance government had refused to sign these, sources said that Parrikar has asked the US to address India's concerns over these agreements for holding further talks, particularly on CISMOA and BECA.
Richardson arrived in New Delhi on Wednesday on a five-day visit to help deepen maritime partnership between the two countries.
He said enhanced collaboration and cooperation is being pushed from the very top in both governments.
"To do this, to take advantage of this window of opportunity, these agreements can be part of that. So, I think there is a sense of optimism that we might be able to get some things done," he said.
Talking about the joint working groups on aircraft carrier and jet engine technology, he said that both sides are making good progress.
Asked if the US will continue to help India if it chooses nuclear propulsion for its next aircraft carrier, he said it was a hypothetical question.
Though India has still not decided on this matter, navy officials here have indicated that they may go for nuclear propulsion.
Richardson said the two sides are collaborating and sharing lessons gathered from undertaking the design and building of an aircraft carrier.
Talking about what he described as China's aggressive posturing in the Indian Ocean, he said that Beijing should make its intentions clear.
Richardson welcomed a larger role for India in the region and the world, saying the country can become an exporter of security.
During his visit, the officer will meet key national security officials here to discuss navy-to-navy relations and opportunities for further technical and security cooperation.
He will then travel to Visakhapatnam to participate in the Indian Navy-hosted International Fleet Review, which will have participation from 50 countries through visiting warships, tall-masted ships, and chiefs of navies.
"A central line of effort for CNO is to expand and strengthen our network of partners," a statement by the American embassy said.