Colonel M N Rai, killed in a gun battle with militants in south Kashmir's Pulwama district, was on Thursday cremated with full military honours.
Army chief Gen Dalbir Singh placed a wreath as hundreds gathered to pay their last respects to the officer at the Delhi Cantonment.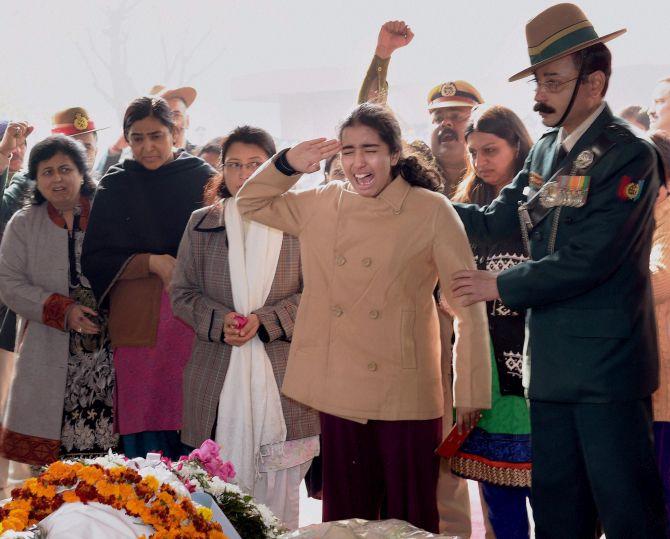 The daughter of Col MN Rai cries as she salutes to pay her last respect to his mortal remains during his cremation in the Delhi Cantonment. Photograph: Manvender Vashist/PTI photo
The 39-year-old brave officer was also given a gun salute. His pyre was lighted by the officer's elder brother Col D N Rai, who is also from the Gorkha Rifles like his sibling.
Members of his regiment and Rashtriya Rifles unit were also present along with top officers from the army headquarters.
Colonel M N Rai lost his life fighting terrorists in Jammu and Kashmir's Tral on January 27, just a day after being awarded Yudh Seva Medal.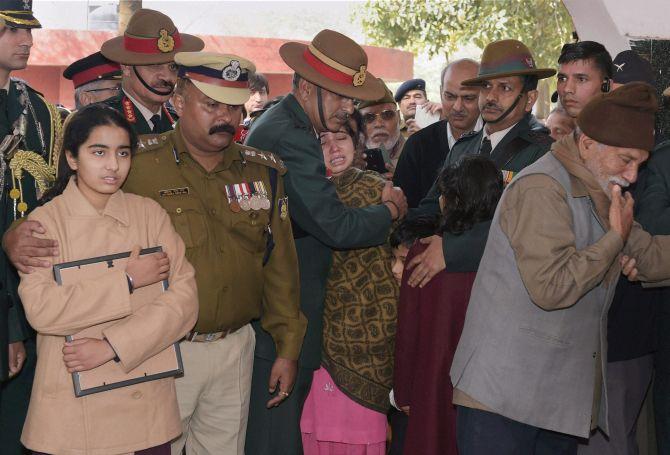 The daughter, wife and father of Col MN Rai mourn during his cremation. Photograph: Manvender Vashist/PTI photo
The martyred colonel's wife, two daughters and son were present for the last rites.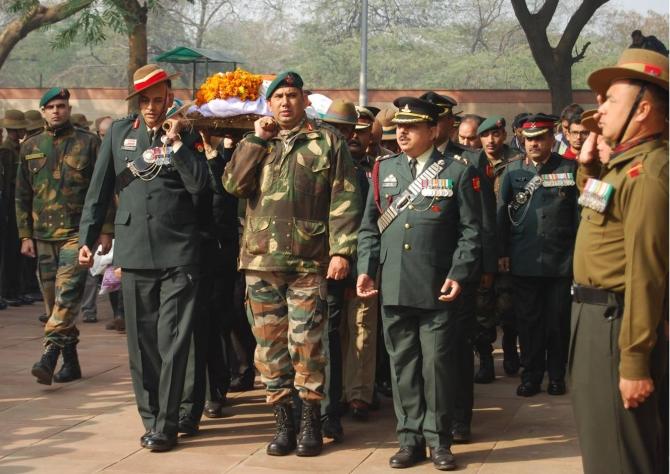 Body of Col M N Rai being taken for the funeral at New Delhi. Photograph: Indian Army
The commanding officer was hailed by the army for always leading from the front in operations and reaching out to youths in militancy-hit areas.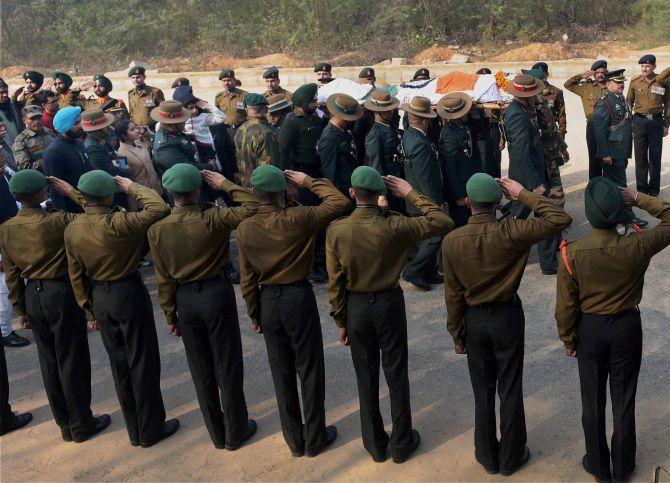 Senior army officials carry the mortal remains of Col MN Rai during his creamation. Photograph: PTI photo
Speaking to reporters on Wednesday, the army chief had said: "He was a very brave officer and he had been awarded Yudh Seva Medal on January 26. And it is an example of leadership that the moment he got information about two terrorists in that area, he immediately went in."
Rai, the highest-ranking military officer to be killed in the region in nearly a year, was killed along with one policeman -- Head Constable Sanjeev Singh -- of the Jammu and Kashmir Police Special Operations Group in a gun battle with Hiz-bul-Mujahideen terrorists. Two terrorists were killed in the encounter.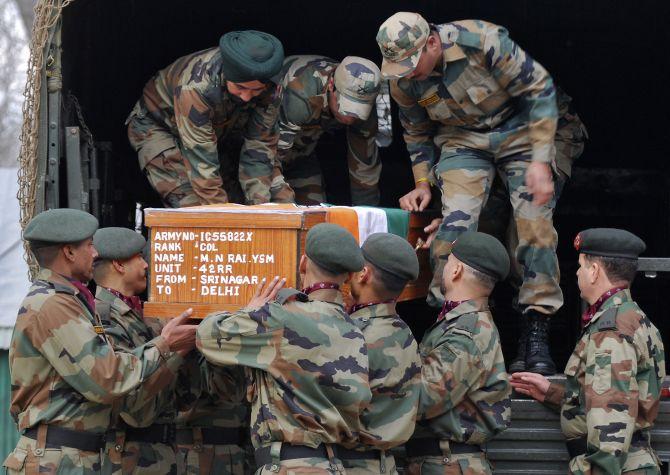 Soldiers carry a coffin containing the body of Colonel M N Rai, who was killed in a gun battle with militants in Kashmir. Photograph: Reuters
The Uttar Pradesh government has announced Rs.30 lakh ex-gratia to the family of the colonel, who hails from the state's Ghazipur district.
Also read: