Russia's United Aircraft Corporation, with an eye on India, has asked its Indian partner to quicken the pace of the design work for their joint production of the Multi-role Transport Airplanes.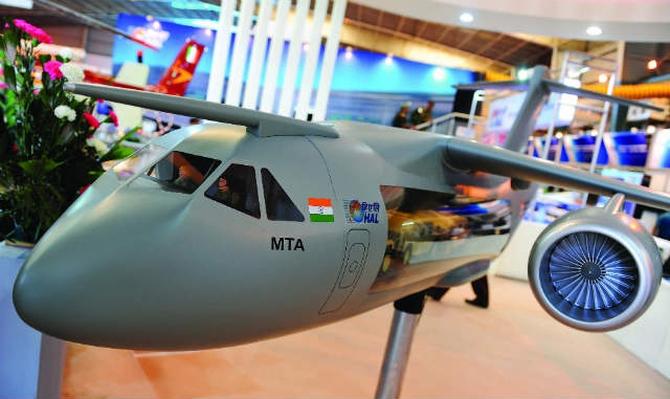 UAC chief Yuri Slyusar also said India has agreed to install the Russian PS-90 engines on the MTAs which the two countries are jointly developing.
State-owned Hindustan Aeronautics Limited is UAC's Indian partner on this long-delayed project.
Speaking to media persons at the Paris International Air Show, Slyusar said, "The Indians have agreed to the PS-90. The project itself will replace the Antonov group of airplanes which in the near future will begin to leave service en masse."
He said UAC has held meetings with its various foreign partners at the Air Show, including with HAL, for their joint project to develop the MTA medium transport aircraft.
"The aircraft is expected to be in great demand not only in Russia and India, but in other markets. Preliminary design stage is completed and for now, the design is being approved by the two parties," he said.
The project is currently at the stage of adoption of the preliminary design, and UAC hopes to sign a contract on the transition to the stage for a detailed design by 2015-end.
"We really hope that by the end of the year we will sign a contract for the next stage of detailed design. If we manage to create a competitive product within a short period of time, it will have very good perspectives.
"That's why we are asking our Indian partners to increase the pace to proceed with the aircraft design itself. We need to manage the maiden flight and start flight testing by 2020," Slyusar said.
The initial agreement for the project was signed by the two countries way back in 2007. UAC and HAL are 50:50 partners in this aircraft project that will have manufacturing facilities in both the countries.
Initially, there are plans to make 205 aircraft, some of which can be exported to other countries. While Russia will take delivery of 100 planes, India will have 45 as per initial plans. The total number of aircraft to be made can almost double after taking into account the civil aircraft demand.