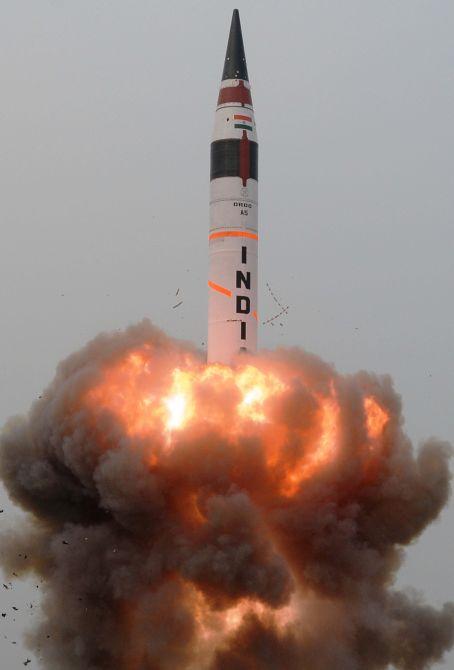 Marking another milestone in the country's deterrence capability, India on Saturday successfully carried out the maiden canister-based trial of its most potent missile Agni-V, which has a strike range of over 5,000 kilometre and can carry a nuclear warhead of over one tonne.
The missile was launched from a canister mounted on a road-mobile launcher at Wheeler's Island off the Odisha coast. The three-stage, solid propellant "missile was test-fired from a mobile launcher from the launch complex-4 of the IntegratedTestRange about 8.06 hours," ITR Director M V K V Prasad said.
Saturday's launch from a canister integrated with a mobile sophisticated launcher, was in its deliverable configuration that enables launch of the missile with a very short preparation time as compared to an open launch. It also has advantages of higher reliability, longer shelf life, less maintenance and enhanced mobility.
Defence analysts said the canister would make the missile fully road or rail mobile, giving a great deal of secrecy and flexibility to the country's strategic strike capability.
The alternate to using canister is fixed ground-based silos which are vulnerable to surveillance and attack.
Prime Minister Narendra Modi hailed scientists for the successful test-firing of 'Agni V' and said the missile is a prized asset for the country's forces.
Congratulating team Agni, Air Chief Marshal Anup Raha, who had witnessed the entire launch operations from the control room, called it "a great achievement".
"This is a momentous occasion. It is India's first-ever ICBM launch from a canister and is a giant leap in country's deterrence capability," Avinash Chander, the outgoing Director General of Defence Research and Development Organisation said in his address to the project team.
Terming it as "a copy book launch" with entire command network functioning in loop, Chander congratulated the entire DRDO community for the tremendous efforts put in by them in making the country self reliant in the area of long range missile systems.
Chander also thanked the DRDO team for demonstrating such a great success on the last day of his work in DRDO.
"I cherished every moment of my service in DRDO and I thank you all for the relentless support given to me all through. I am leaving with a great satisfaction of equipping the country with such advanced missiles. I wish the entire DRDO community a great future," he said.
Photograph: SnapsIndia
© Copyright 2022 PTI. All rights reserved. Republication or redistribution of PTI content, including by framing or similar means, is expressly prohibited without the prior written consent.