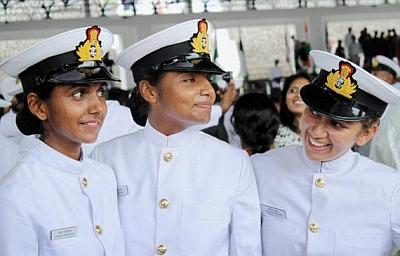 The Indian Navy is set to open the doors soon for increased role of women on its rolls but has made it clear that there will be no combat positions yet.
The move comes on the heels of the government announcing law week its decision to induct women as fighter pilots in the Indian Air Force.
The navy will also challenge a recent order of the Delhi high court which had reprimanded it over the issue of permanent commission for women in the force.
"Except where an aircraft is required to be stationed on the ship overnight, like aircraft carrier, rest of flying areas will be open to the women," Defence Minister Manohar Parrikar on Monday said after his closed-door address at the ongoing Naval Commanders' Conference in New Delhi.
He said an announcement is likely to be made to this effect in the next few days.
The navy has mooted a proposal to the defence ministry for induction of women as pilots for its fleet of maritime reconnaissance aircraft.
Parrikar stressed that one should not confuse the decision of the navy to open its doors for women with the recent order of the Delhi high court.
In a major relief for women naval officers, the Delhi high court had on September 4 allowed a batch of petitions seeking permanent commission for them in the force, saying "sexist bias and service bias" would not be allowed to block progress of women.
The court, while granting their plea, said the "women are here to stay" and since they "work shoulder-to-shoulder" with their male counterparts, it would "frown upon any endeavour to restrain the progress of women".
Parrikar said that in 2008, the navy had opened its doors in Short Service Commission for granting permanent commission to women along with men.
He said that permanent commission for SSC was not an option for men also prior to 2008.
"There is no gender bias...It was equal to both men and women. In 2008, the navy granted SSC to be changed to permanent commission to women in three streams -- education, law and naval constructions. The other areas have some logistics and infrastructure problems as those are executive branches.
"And therefore the HC order has 2-3 issues for which we are approaching the Supreme Court because we want to give almost equal status to women in all areas wherever possible, subject to training limitations and logistics and infrastructure capabilities. So we will be approaching the apex court because that judgement is based on the pre-assumption that there was a gender bias, which is not there," he said.
On the role of women in the army, Parrikar said the government was allowing them to be part of forces "wherever possible".
"If there is problem with regard to logistics, training, infrastructure, I cannot help it," he said.
The naval women officers had also challenged a 2008 decision of the navy to grant permanent commission only to women who joined after that year and that too only in the education, law and naval architecture branches.
While the army and air force allow permanent commission for women, the navy limited women officers only to short service commission of 14 years.
A bench of justices Kailash Gambhir and Najmi Waziri also allowed the women naval officers' plea seeking retirement benefits like pension.
Women naval officers were not eligible for pension as it required 20 years of service.
The order came on the plea of several naval women officers, both retired and serving, from the logistics, education and air traffic control departments of the navy.
The women naval officers in their petitions in the high court had sought similar rights as their counterparts in the other two wings of the armed forces.
They had also alleged gender discrimination, saying while women officers were only entitled to short service commission, men were entitled to both short service as well as permanent commissions.
Meanwhile, talking about the recent ceasefire violations, Parrikar said the incidents have taken place along the International Border and, hence he would not be able to comment as it came under the purview of BSF.
On incidents of firing on Indian fishermen by the Pakistani maritime forces, he said the authorities concerned are discussing how to avoid firing.
"Even if a fisherman, by mistake, crosses any boundary, at the most you can arrest him and then we can exchange him or work out solutions. They cannot be fired upon. That is being handled at the DG level and we will sort it out," he said.
Parrikar also said he was focusing on increasing the production well as the quality capacity of Ordinance Factory Board.
He said there has been an increase of about 1--15 per cent capacity in manufacture of ammunition. Efforts were on to make at least 40 Arjun tanks fully operational, he said without giving further details on the issue.
Asked about Pakistan's lack of decision on taking part in the International Fleet Review scheduled for February next year in Visakhapatnam, Parrikar said, "We welcome them. We have invited them but there is no confirmation so far."
He also said he expected that the new Defence Procurement Policy will be firmed up in November as several parts of it were in final stages of completion.