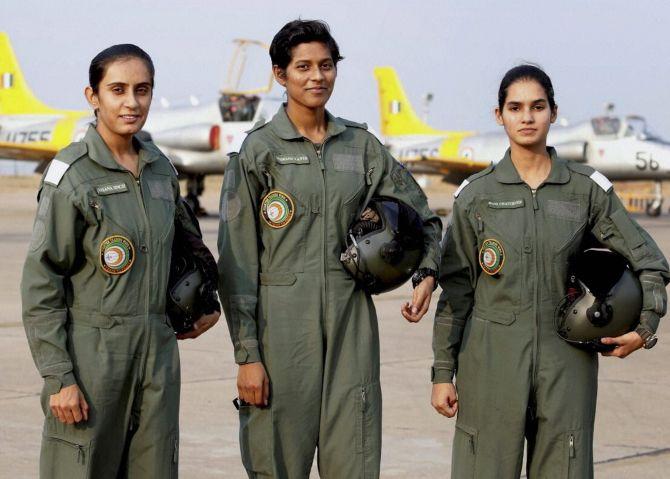 Avani Chaturvedi, Mohana Singh and Bhawana Kanth are soaring new heights!
The three flying will shortly enter the history books by being the first three women cadets to be cleared to fly fighter aircraft in India.
"It doesn't feel very special just as yet. Our main focus is to undergo training and live up to the expectations of our instructors and excel in all examinations," Flying Cadet Bhawana Kanth was quoted as saying.
The three flying cadets are undergoing training at the Indian Air Force base in Hakempet, along with their male counterparts. There is no special treatment for the women cadets, who undergo the same rigorous training as the men.
For Bhawana, this is the culmination of her childhood dream whereas for Mohana it is keeping the family legacy going as her father and grandfather both served in the Indian Air Force
Avani Chaturvedi from Rewa in Madhya Pradesh says it's no different being a woman fighter pilot. The challenges are exactly the same for both sexes. "We have to compete like anyone else and we are not looking to be treated differently either," she explains.
The flight cadets are currently undergoing Stage-II training, albeit on ageing Kiran intermediate jet trainers at the Indian Air Force's fighter training wing in Hakimpet. Then, after undergoing Stage-III training on Hawk advanced jet trainers-- to learn the intricacies of combat flying -- they will become full-fledged fighter pilots by mid-2017.

On Tuesday, IAF chief Air Chief Marshal Arup Raha took the opportunity of International Women's Day and announced that the three women, all in their early-20s, would be commissioned as officers into the fighter stream when they graduate with their male counterparts from the AFA on June 18.
Image: The three women flying cadets (left to right) Mohana Singh, Bhawana Kanth and Avani Chaturvedi are undergoing flying training at Indian Air Force base, Hakempet. Photograph: PTI