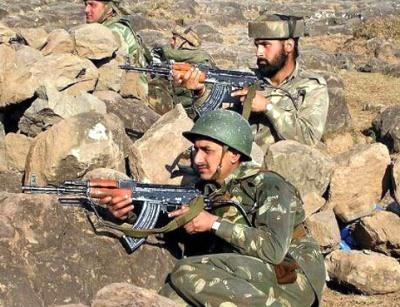 Lance Naik Dhananjay Kumar's father is proud of his son, who lost his life during a recent encounter with terrorists in Kupwara district of Jammu and Kashmir.

A day after his son's last rites were performed at his native village in Maner, 24 km west of Bihar capital Patna, Jiyanand Rai demanded that the Narendra Modi government avenge Pakistan Army's excesses along the Line of Control.

Rai, a farmer, told rediff.com: "India has not yet taken decisive action against Pakistan and soldiers like Dhananjay are becoming martyrs at the border. It (the government) should take revenge."
"My son has been martyred. I am not worried about that because he was the son of an Indian. Revenge should be taken against Pakistan"

Even as he urged the government to act strong, Rai lauded the Centre's decision to call off foreign secretary-level talks with Pakistan.

"It was a right decision. Time has now come to take more action against Pakistan," he said.
Bharatiya Janata Party leader Sushil Kumar Modi was among those present during Dhananjay's last rites.
Paying his tribute to Dhananjay's family, he said, "The area of Maner has thousands of people in the army. It is very sad that a young member of a family has lost his life. One of his brothers is also in the army, while the youngest one is also preparing for the same."

"Thousands of people have gathered for him here: that is a big mark of respect. I would like to confidently covey this message to the public that the Indian government is prepared in all ways to face any situation. We are not weak anywhere and may be that is why the recent talks (with Pakistan) were called off," he added.