A Korean couple and a retired Army Major General were among 310 people rescued by Chandigarh-based 12 Wing of the Indian Air Force, which has been conducting non-stop sorties during the past three days to evacuate people from flooded areas of Srinagar.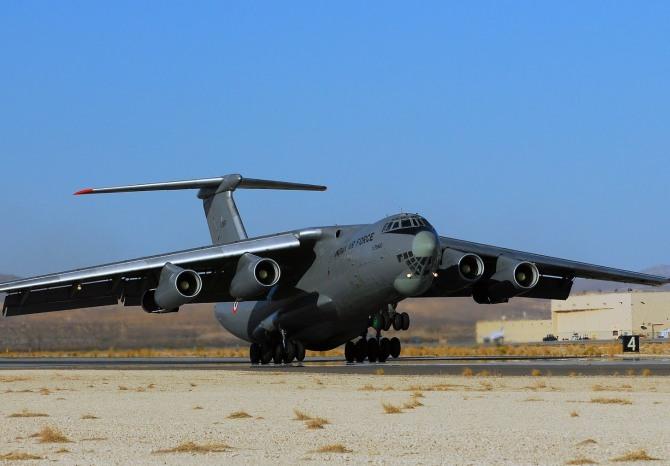 Indian Air Force IL-76 transport aircraft
The Korean couple and the retired Army officer S K Dhiman were on an excursion to Srinagar while others had gone to the Valley for various reasons including many of them as migrant labourers.
Among the rescued people that also included 30 women, some needed immediate medical attention for various ailments. They were brought to Chandigarh on Monday evening.
Fateh Mohammed was among ten patients who were brought here from Srinagar in a critical condition, Group Capt Sameer Bhalla, Station Commander 12 Wing said on Tuesday.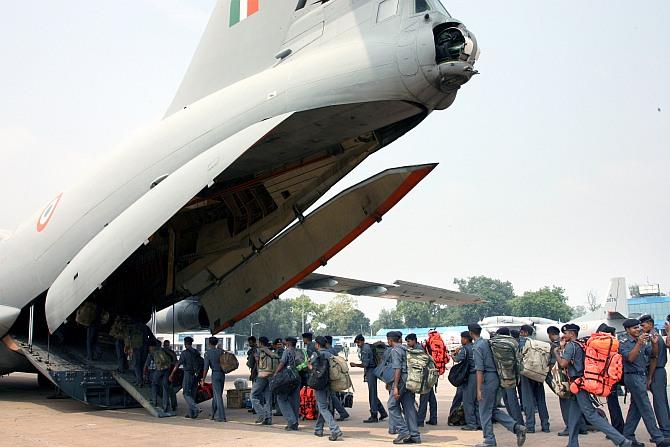 National Disaster Response Force personnel boarding an IAF IL-76 aircraft proceeding to Srinagar for flood relief operations. Photograph: Indian Air Force
A large number of those rescued hail from Bihar, Uttar Pradesh and Delhi. They were evacuated from Srinagar by the Chandigarh based IL-76 squadron of the IAF.
"The 12 Wing has opened a relief camp at Chandigarh (Air Force Station) and the rescued persons are being extended medical facilities and food. With the help from Chandigarh administration, we are also arranging transportation for their onward journey by bus and rail," he said.

He said both the squadrons of 12 Wing -- 48 Squadron (AN-32) and 44 Squadron (IL-76) -- have been conducting non-stop sorties during the past three days to provide assistance in the relief and rescue operations.

IAF planes from Chandigarh have also flown NDRF, Army and Air Force personnel to the flood-affected areas in Kashmir, which has witnessed worst floods in decades.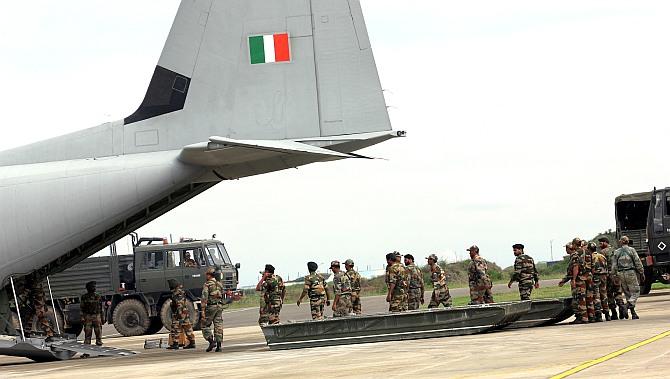 Army personnel off-loading boats airlifted by an IAF IL-76 aircraft at Srinagar for flood relief operations. Photograph: Indian Air Force
The giant transport aircraft IL-76 has airlifted close to 100 tons of load.
Meanwhile, a Meteorological Department official here said that the recent heavy rains in KashmirValley were caused due to two different weather systems converging to build up as one massive system.
The western disturbances and monsoon currents from a Low Pressure Area, which moved from Bay of Bengal towards J&K a few days back, converged as one big weather system causing heavy downpour, the official said.
A fresh western disturbance was slowly originating from the Caspian Sea and over the next couple of days, it will become known if the WD will hit Jammu and Kashmir or pass well above.

The official also said that a weather system was currently active over Gujarat, which may cause heavy rains in some parts of the state.
© Copyright 2021 PTI. All rights reserved. Republication or redistribution of PTI content, including by framing or similar means, is expressly prohibited without the prior written consent.