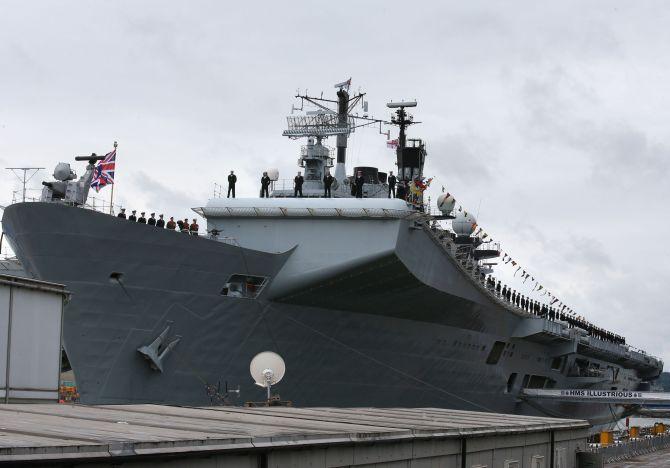 Some vendors say the navy's specifications for its next aircraft carrier are similar to those of Britain's HMS Queen Elizabeth II. Photograph: Andrew Milligan/WPA Pool/Getty Images
India and the United States have started discussions to jointly develop a next-generation aircraft carrier to bolster the Indian Navy's blue-water capabilities, a top Pentagon official has said.
During US President Barack Obama's visit to India in January, the two countries had announced the establishment of a working group for the proposed aircraft carrier, which held its first ever meeting here last month.
The Indian delegation led by Vice Admiral S P S Cheema, Flag Officer Commanding-in-Chief (FOC-in-C), Western Naval Command, also visited the US Navy's state-of-the-art aircraft carrier -- PCU Gerald Ford -- currently under construction at the Newport News Shipbuilding in Virginia, and received briefs on US navy management of aircraft carrier programmes.
"The impression that I was left with in my discussion with Vice Admiral Cheema is that it exceeded our expectations," Keith Webster, Director and International Cooperation Office of the Under Secretary of Defence for Acquisition, Technology and Logistics, told PTI in an interview.
"There was an incredible amount of time spent on answering questions from the Indian delegation specific to how do we manage acquisition of an aircraft carrier, which is a hugely complex journey," he said.
The delegation met with senior Pentagon officials, and toured the US navy's research and development facilities for aircraft carrier launch and recovery systems as a first step to exploring opportunities for cooperation.
"We answered every question that they had. And I think the realisation for Indian colleagues was that aircraft carrier technology and construction is very unique and that a large part of which is controlled by the US Navy and the US government," Webster said.
Noting that the US navy has its own in-house design team supported by industry and owns majority of the technology, Webster said the good news is because the US government has such control over aircraft carrier development, design and technology; tactics and techniques, it has greater latitude than other technologies like jet engines where it can control the decisions in a way that it cannot in some other industry.
The next step would be the Indian Navy hosting the US navy within the next six months or so to continue to focus on the way ahead, he said.
"We believe there are opportunities to provide technical advice to the Indian Navy given our long history of aircraft carrier design and evolution," said the senior department of defence official.
"We would be putting in agreements that would allow us to bilaterally discuss design and techniques of design, characteristics design and sharing of information associated with that. There will be an information exchange agreement that we would soon negotiate and put in place that would give them the legal top cover to do that kind of in-depth collaboration," Webster said.
Observing that the journey towards an aircraft carrier is in the infancy stage, he said neither side has set up their goals in this regard.
"I do not think that (final goal) has been decided by either side yet," he said in response to a question. "We are in the very beginning of the journey and our understanding from our Indian colleagues is that they are approaching an acquisition decision in 2016, hoping to get final approval to move forward with a next-generation aircraft carrier," he said.
"We are at a very early phase of our discussion and I think, over the next six months we would better understand beyond the sharing of information and potentially providing the Indian government some technical advice in the process," Webster said.
The Indian Navy he said has a significant decision to make about class and size.
"Once they decide as a nation on the fundamentals of class of shape and size of ships that leads you to tactics and techniques and experiences that we can share based on our evolution. That is the critical first step Indian deciding what it is going to decided fundamentally," he said.
"Because we are at the beginning of India's journey of making a significant decision on class size and capability, the US government and the US Navy has not been asked by India for anything that we would not be willing to provide them at this point of time. We are in the infancy of this journey and we are waiting for them to make some decisions that would then lead to may be more specific requests of us," Webster said.
The Joint Working Group on Aircraft Carrier Technology Cooperation, co-chaired by US Navy's Program Executive Officer for Aircraft Carriers, Rear Admiral Tom Moore and India's Controller for Warship Production and Acquisition, Vice Admiral G S Pabby, is part of the larger India-US Defence Technology and Trade Initiative.
The intent of DTTI is to reduce procedural obstacles in both the US and Indian governments' defence establishments in order to facilitate broader cooperation in defence production as a component of the strategic partnership.