India may scrap negotiations with Dassault for 126 Rafale fighter jets. Instead, it is likely to buy over 60 jets in flyaway condition, reveals Nitin Gokhale.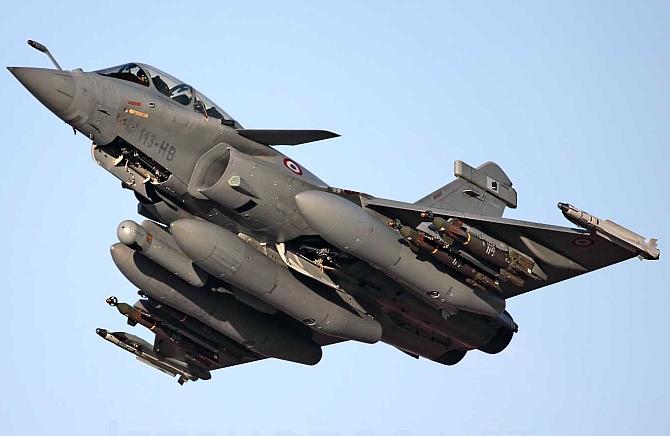 India is likely to buy about 60 Rafale combat jets from Dassault Aviation instead of 126 aircraft proposed in the original request for proposal meant to be procured in under the process that began some eight years ago, highly placed sources said.
The decision to buy nearly three-and-a-half squadrons (between 60 and 63 aircraft) of Rafale jets for the Indian Air Force was taken at the highest political level hours before Prime Minister Narendra Modi embarked on his three-nation tour on Thursday, April 9, the sources added.

Given the huge financial and operational implications, the government thought it prudent to take a strategic decision rather than leave it to a bureaucratic process.
The French are likely to be told of this decision by the prime minister when he meets President Francois Hollande in Paris on Friday.
Under the new proposal, the entire process for procuring 126 combat jets would be scrapped, sources revealed.

A new G-to-G (government-to-government) contract is likely to be negotiated between New Delhi and Paris to buy around 60 Rafale jets in flyaway condition from France.
According to top sources, this approach is being adopted for two primary reasons: One, it is imperative that the IAF gets these jets as soon as possible in view of the fast depleting numbers and two, because the impasse in the price negotiations.

The entire procurement procedure for the combat jets has turned into a chaotic process thanks to the indecision on part of the political leadership in the previous regime and some loopholes in the negotiations itself making it impossible for the government to arrive at a satisfactory solution.
India is likely to ask for lowering of the price per aircraft too when the G-to-G negotiations get underway.
By ordering 60 aircraft to be manufactured in France itself, the government is also hoping to skirt the tricky issue of guaranteeing quality of work under Hindustan Aeronautics Limited, designated as the Lead Production Agency in India.
The government's drastic decision to scrap the torturous procurement process is aimed at augmenting the IAF's falling numbers as well as save about Rs 60,000 crore (Rs 600 billion) in precious foreign exchange.
The calculation is that the 60-odd aircraft would cost around Rs 45,000 crore (Rs 450 billion) to be paid out over the next four, five years instead of over one lakh crore rupees (Rs 1 trillion) necessary to procure the original number of 126 combat jets.
REDIFF RECOMMENDS