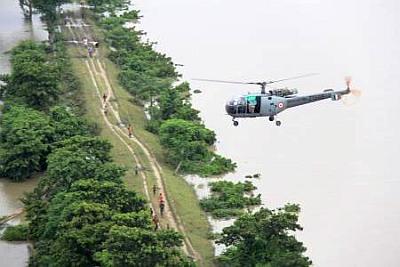 Indian Air Force's 115 Helicopter unit and 26 Squadron, both doing yeoman's services in rescue operations and war have been awarded with the President's Standard award, an official said on Friday.
"President of India Pranab Mukherjee who is also the Supreme Commander of Indian Armed Forces will present the awards at a grand Ceremonial Parade at Tezpur Air Force Station on November 21," IAF Eastern Air Command spokesperson Amit Mahajan said.
Commanding Officer of 115 Helicopter Unit Wing Commander AP Deshpande and Commanding Officer of No 26 Sqn Wg Cdr S Prabhu will receive award, he said.
Raised on April 1, 1967 in Guwahati, the Helicopter Unit earned its sobriquet 'The Hovering Angels', while incessantly working to provide relief and succor to flood ravaged Bihar in 1975.
The operations of the unit span the entire North-East. The unit took part in Indo-Pak war of 1971 and cyclone relief operations in Andhra Pradesh and Odisha in May 1979 and Super Cyclone in 1999.
On the other hand, the 26 Squadron (Warriors) which was formed on January 1, 1968 at Adampur, was the first Squadron in the IAF to be equipped with the SU-7 aircraft.
The 'Warriors' played a very active role in the 1971 Indo-Pak War providing close air support to Indian Army.
In 1977, the Squadron was re-equipped with MiG 21 BIS aircraft and moved to Pathankot and actively participated in the Kargil conflict of 1999 and was also involved in guarding the northern skies during the long period of activation as part of Op Parakram.